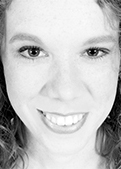 Julia Gerhardt, BM, MM
Instructor of Horn
Phone: 678-839-6516 | Fax: 678-839-6259
Email: jgerhard@westga.edu
Office: Humanities Building
Biography
As varied in repertoire as experience, hornist Julie Gerhardt is an innovative performer
informed by a wide breadth of scholarship. Originally from Fayetteville, Georgia, Ms.
Gerhardt's musical endeavors include both performance and teaching.
Since earning her undergraduate degree in instrumental music education from Indiana
University in 2001, Ms. Gerhardt has served as a middle school band director, marching
band technician, horn instructor, brass techniques teacher, and music theory professor.
Her horn students have traditionally experienced high degrees of success within their own
band programs and at District Honor Band, All-State Band, and Solo/Ensemble Festival.
Ms. Gerhardt's graduate study took her to the University of Georgia, the University of
New Hampshire, and back to her undergraduate alma mater, Indiana University. She
earned the Master of Arts in Music: Music Studies at UNH in 2010 and the Performer
Diploma at IU in 2012.
Currently, Ms. Gerhardt holds positions in the Valdosta Symphony Orchestra and the
Albany Symphony Orchestra and performs regularly with a number of orchestras in the
southeast and beyond, including the Atlanta Symphony Orchestra, the Knoxville
Symphony Orchestra, the Georgia Symphony Orchestra, and the Quad Cities Symphony
Orchestra.
Ms. Gerhardt's primary teachers include Michael Hatfield, Myron Bloom, Dr. Jean
Martin-Williams, Richard Deane, Kendall Betts, Rick Seraphinoff, Dale Clevenger, and
Jeff Nelsen.
Ms. Gerhardt is the horn instructor at the University of West Georgia.
Courses and Sections
Courses Taught

MUSC-2600L (Principal Applied: Horn)
MUSC-4600L (Principal Applied: Horn)

Spring 2016 Sections

Fall 2015 Sections

MUSC-2600L (Principal Applied: Horn) Section: 01

Spring 2015 Sections

MUSC-2600L (Principal Applied: Horn) Section: 01