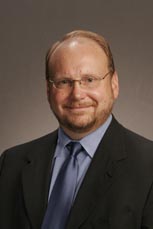 Kim Metcalf, Ph.D.
Phone: 678-839-4783 | Fax: 678-839-4766
Email: kmetcalf@westga.edu
Office: Row Hall
Hours: 8:00 - 5:00pm
Biography
Dr. Kim Metcalf is Dean of the College of Education at the University of West Georgia. Dr. Metcalf assumed the Deanship in July of 2008 after serving for two years as Director of the College's Center for Evaluation.

Prior to joining the Evaluation Center, Dr. Metcalf served as Assistant Superintendent of Research and Assessment in the Monroe County Community School Corporation, a public school district serving south central Indiana. He has also worked as a professor of Education and Director of the Indiana Center for Evaluation at Indiana University, where he spearheaded a seven-year evaluation of the school voucher program in Cleveland, Ohio. At Indiana University, he also served as Director of the Teacher Education Laboratory, and as Director of the Teacher as Decision Maker program. Prior to joining the faculty at Indiana, Dr. Metcalf taught at Southwest Missouri State University and The Ohio State University. He began his career as a K through 12 music teacher in Indiana public schools.

Dr. Metcalf's research and scholarship have focused on three particular lines of inquiry: (1) the evolution of the Education deanship; (2) the impact and structure of clinical or practical experiences in the preparation of education professionals and (3) the effective collection, analysis, and use of empirical data to improve program development, policy development, and program improvement.
Education/Degrees
B.S., Music Education, Ball State University, 1979
M.A., Teacher Education/Educational Research and Evaluation, Ohio State University, 1989
Ph.D., Teacher Education/Educational Research and Evaluation, Ohio State University, 1989
Courses Taught
Selected Publications
Boone, W., Metcalf, K. Paul, K., Lotter, L., and Kelly, P. (2009). Science and Mathematics Instructional Time in an Urban Setting: Differences and Similarities among Private and Public Schools, School Science and Mathematics, 15, 343
Cruickshank, D, Jenkins, D., and Metcalf, K. (2008). The Act of Teaching, 5th Edition. New York: McGraw-Hill.