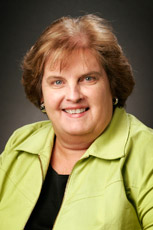 Eileen Muzio, M.Ed.
Instructor
Phone: 678-839-6060 | Fax: 678-839-6063
Email: emuzio@westga.edu
Office: Education Annex 119
Biography
Eileen Muzio is an Instructor in the Early Learning and Childhood Education department of the College of Education. She teaches undergraduate education courses and supervises students during the field placements. Her passion is equipping students with the most current research based knowledge in appropriate teaching practices and materials for the PreK-5 classroom. Prior to joining the faculty at the University Of West Georgia, Mrs. Muzio taught 31 years in the Coweta County School System.
Education/Degrees
B.S., Early Childhood Education, West Georgia College, 1974
M.Ed., Early Childhood Education, West Georgia College, 1976
Courses and Sections
Courses Taught

ECED-4251 (Assess & Correct Math Educ)
ECED-4251L (Assess & Correction Clinical L)
ECED-4262 (Tch Content/Process:Science Ed)
ECED-4263 (Tch Content/Process:Math Educ)

Spring 2015 Sections

Fall 2014 Sections

ECED-4262 (Tch Content/Process:Science Ed) Section: 91
ECED-4263 (Tch Content/Process:Math Educ) Section: 01
ECED-4263 (Tch Content/Process:Math Educ) Section: 02
ECED-4263 (Tch Content/Process:Math Educ) Section: 91

Spring 2014 Sections

ECED-4251 (Assess & Correct Math Educ) Section: 91
ECED-4263 (Tch Content/Process:Math Educ) Section: 01
ECED-4263 (Tch Content/Process:Math Educ) Section: 02
Selected Publications
Muzio, E. (1983). Organizing a Kindergarten Classroom. Georgia's Children, Vol. II, Number 3, Fall, 20-21