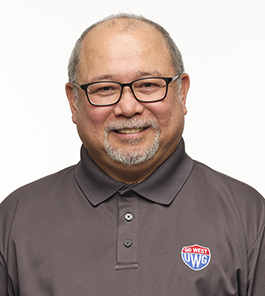 Danilo M Baylen, Ed. D.
Professor
Phone: 678-839-6130 | Fax: 678-839-6153
Email: dbaylen@westga.edu
Office: Education Annex 152
Hours: Mon/Wed 1-4 pm
Biography
Danilo M. Baylen is a tenured Full Professor of Instructional Technology and School Library Media in the Department of Educational Technology and Foundations, College of Education at the University of West Georgia. He received his doctoral degree in Instructional Technology from Northern Illinois University. Also, he has graduate degrees in Elementary Education (Florida Gulf Coast University), Counseling (NIU), and Library and Information Studies (University of Alabama) as well as a graduate certificate in Children's Literature (Pennsylvania State University). His undergraduate degree was in Economics from the University of the Philippines. His research interests include technology integration across the curriculum, media literacy education, visual literacy, online learning and teaching, and instructional design. His recent research projects focused on faculty readiness for online teaching, use of technology for course transformation, and the role of learner characteristics in e-learning among undergraduate and graduate students. Currently, he is exploring the convergence of emerging technologies and children's literature through interactive picture books and digital storytelling. Also, he is investigating the use of digital media in enhancing the educational experience of teacher education students and practitioners.
Education/Degrees
Bachelor of Arts (Economics), University of the Philippines, 1982
Master of Science in Education (Counseling), Northern Illinois University, 1992
Doctor of Education (Instructional Technology), Northern Illinois University, 2001
Master of Arts (Elementary Education), Florida Gulf Coast University, 2007
Graduate Certificate Program in Children's Literature, Pennsylvania State University, 2010
Master of Library & Information Studies, The University of Alabama, 2013
Courses and Sections
Courses Taught

EDSI-9998 (Research for Doc Dissertation)
MEDT-7462 (Internet Tools,Resources,& Iss)
MEDT-7490 (Visual & Media Lit Tch & Learn)
MEDT-8461 (Diffusion of Innovations)
MEDT-8462 (Lead & Mng Instct Tch Prog)
UWG-1101 (First Year Univ. Experience)

Summer 2016 Sections

MEDT-7462 (Internet Tools,Resources,& Iss) Section: E01
MEDT-8462 (Lead & Mng Instct Tch Prog) Section: E01

Spring 2016 Sections

MEDT-8462 (Lead & Mng Instct Tch Prog) Section: E01

Fall 2015 Sections

UWG-1101 (First Year Univ. Experience) Section: 35D
MEDT-8462 (Lead & Mng Instct Tch Prog) Section: E01

Summer 2015 Sections

MEDT-7462 (Internet Tools,Resources,& Iss) Section: E01
MEDT-8462 (Lead & Mng Instct Tch Prog) Section: E01
EDSI-9998 (Research for Doc Dissertation) Section: E02

Spring 2015 Sections

MEDT-7490 (Visual & Media Lit Tch & Learn) Section: N01
MEDT-8461 (Diffusion of Innovations) Section: N01
MEDT-8462 (Lead & Mng Instct Tch Prog) Section: N01
EDSI-9998 (Research for Doc Dissertation) Section: E29
Selected Publications