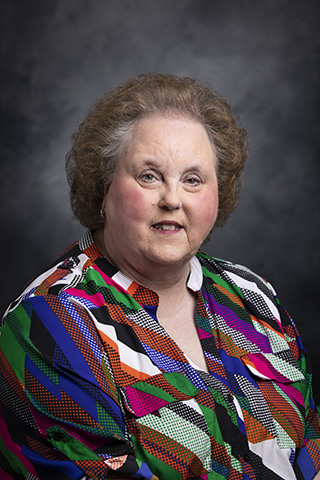 Judy Butler, Ed. D.
Professor
Phone: 678-839-6079 | Fax: 678-839-6195
Email: jbutler@westga.edu
Office: Coliseum 2048
Hours: By Appointment
Biography
Dr. Butler teaches in the Secondary Education programs which are located in the Department of Leadership and Instruction. Her areas of expertise include social studies education, the era of school integration, and civic education. Among other service endeavors, she serves on the International Programs Committee for the College of Education at UWG. She is in her eighteenth year at the university.
Education/Degrees
BS Ed., Secondary Education, Southern Arkansas University, 1969
M.A., Liberal Studies, University of Oklahoma, 1982
Ed.D., Curriculum and Instructional Leadership, Vanderbilt University, 1995
Courses and Sections
Courses Taught

EDLE-6320 (Supervision of Instruction)
EDSI-9943 (Models of Professional Develop)
EDSI-9998 (Research for Doc Dissertation)
MGED-4289 (Internship Seminar)
SEED-4243 (Instruct Strat: Sec Soc Sci Ed)
SEED-4271L (Sec Schl Curr & Rel Top Lab)
SEED-4286 (Teaching Internship)
SEED-4289 (Teaching Internship Seminar)
SEED-7261 (Adv Instruc Strat English Educ)
SEED-7262 (Adv Instruc Strat Soc Studies)
SEED-7271 (Adv Study of Sec School Curric)
SEED-7289 (Teaching Internship Seminar)

Summer 2014 Sections

SEED-7271 (Adv Study of Sec School Curric) Section: N01
EDSI-9943 (Models of Professional Develop) Section: N01
EDSI-9998 (Research for Doc Dissertation) Section: N17

Spring 2014 Sections

SEED-4289 (Teaching Internship Seminar) Section: 01D
SEED-7261 (Adv Instruc Strat English Educ) Section: 02D
SEED-7262 (Adv Instruc Strat Soc Studies) Section: 02D
SEED-7289 (Teaching Internship Seminar) Section: 01D
EDSI-9998 (Research for Doc Dissertation) Section: N17

Fall 2013 Sections

SEED-4243 (Instruct Strat: Sec Soc Sci Ed) Section: 01
MGED-4289 (Internship Seminar) Section: 01D
SEED-4289 (Teaching Internship Seminar) Section: 01D
SEED-7289 (Teaching Internship Seminar) Section: 01D
EDSI-9998 (Research for Doc Dissertation) Section: N19

Summer 2013 Sections

EDLE-6320 (Supervision of Instruction) Section: 81D
EDSI-9943 (Models of Professional Develop) Section: N01
EDSI-9998 (Research for Doc Dissertation) Section: N19

Spring 2013 Sections

SEED-4271L (Sec Schl Curr & Rel Top Lab) Section: 07
SEED-4286 (Teaching Internship) Section: 01
SEED-4289 (Teaching Internship Seminar) Section: 01D
SEED-7261 (Adv Instruc Strat English Educ) Section: 02D
SEED-7262 (Adv Instruc Strat Soc Studies) Section: 02D
SEED-7289 (Teaching Internship Seminar) Section: 01D [ View Syllabus ]
EDSI-9998 (Research for Doc Dissertation) Section: N19
Selected Publications
Nazzal, A. & Butler J. (2010). What do middle school candidates know about geography? GATEways to Teacher Education, 20. This article describes a pilot study carried out in a university in the southeastern United States that prepares candidates in middle [ View Publication ]
Butler, J. D. (2013). Character education: What has happened to the moral compass? The Sophist's Bane, 7 (1-2)/ [ View Publication ]
Williamson, J. & Butler, J. (2011). Remember: The journey to school integration. Notable Trade Book Lesson Plan. Social Studies Research and Practice, 6(1). [ View Publication ]