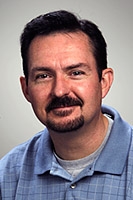 Michael Keim, Ph.D.
Assistant Professor of Counselor Education and College Student Affairs
Phone: 678-839-6127 | Fax: 678-839-6099
Email: mkeim@westga.edu
Office: Education Annex 229
Biography
Michael A. Keim is an Assistant Professor of Professional Counseling in the College of Education at the University of West Georgia. He is army veteran and he has served as an educator and school counselor in the public schools for over a decade. His research interests include ethical and legal issues in professional counseling, as well as issues relating to counseling in the military community and deployment. His research projects have focused on school counseling program evaluation and school counseling service provision to children of deployed military parents.
Education/Degrees
Bachelor of Arts in Political Science and Russian Area Studies, Wittenberg University, 1988
M.A., Master of Arts in School Counseling, Western Carolina University, 2003
Ph.D., Doctor of Philosophy in Counselor Education and Supervision, Auburn University, 2009
Courses and Sections
Courses Taught

CEPD-6140 (Intro to Counseling Practice)
CEPD-6182 (Internship: Prof Counseling)
CEPD-6188 (Practicum: Prof Counseling)
CEPD-7112 (Career Theory and Intervention)
CEPD-7145 (Advocacy and Leadership)
CEPD-7185 (Counseling Military Families)
CEPD-8189 (Advanced Internship)
CEPD-9199 (Dissertation)
EDSI-9998 (Research for Doc Dissertation)

Summer 2015 Sections

CEPD-7112 (Career Theory and Intervention) Section: 01D
CEPD-7145 (Advocacy and Leadership) Section: N01
CEPD-7185 (Counseli in the Military Commu) Section: E01
CEPD-9199 (Dissertation) Section: E02
EDSI-9998 (Research for Doc Dissertation) Section: E16

Spring 2015 Sections

CEPD-6182 (Internship: Prof Counseling) Section: 03
CEPD-6188 (Practicum: Prof Counseling) Section: 01
CEPD-8189 (Advanced Internship) Section: N01
EDSI-9998 (Research for Doc Dissertation) Section: E02

Fall 2014 Sections

CEPD-6140 (Basic Counseling Skills) Section: 02
CEPD-6188 (Practicum: Prof Counseling) Section: 01
CEPD-7145 (Advocacy and Leadership) Section: 01D
EDSI-9998 (Research for Doc Dissertation) Section: N02

Summer 2014 Sections

CEPD-6140 (Intro to Counseling Practice) Section: 01
CEPD-7185 (Counseling Military Families) Section: N01
EDSI-9998 (Research for Doc Dissertation) Section: N02

Spring 2014 Sections

CEPD-6140 (Intro to Counseling Practice) Section: 02
CEPD-6188 (Practicum: Prof Counseling) Section: 01
CEPD-8189 (Advanced Internship) Section: N01
EDSI-9998 (Research for Doc Dissertation) Section: N02
Selected Publications