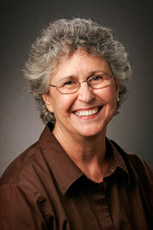 Judy Cox, Ed.S.
Lecturer
Phone: 678-839-6085 | Fax: 678-839-6063
Email: jcox@westga.edu
Office: Education Annex 124
Biography
I am a full time Lecturer at University of West Georgia teaching science methods to elementary and
middle grades pre-service teachers. I collaborate with Drs. Gail Marshall and Sharmistha Dutt in
the creation of IMPACT kits for teachers and in the training of teachers on these kits. I am also currently
involved in the writing and instruction of a Georgia Teacher Quality Grant: "Teaching Earth Systems
Science".

Prior to becoming full-time faculty at University of West Georgia, I taught in the Cobb County

public school system for over two decades.
Education/Degrees
B.S., Education, University of Georgia, 1969
M.Ed., Education, State University of West Georgia, 1997
Ed.S., Education, State University of West Georgia, 2002
Courses and Sections
Courses Taught

ECED-4262 (Tch Content/Process:Science Ed)
UTCH-3002 (Classroom Interactions)

Spring 2015 Sections

UTCH-3002 (Classroom Interactions) Section: 01
ECED-4262 (Tch Content/Process:Science Ed) Section: 01
ECED-4262 (Tch Content/Process:Science Ed) Section: 02
ECED-4262 (Tch Content/Process:Science Ed) Section: 51

Fall 2014 Sections

UTCH-3002 (Classroom Interactions) Section: 01
ECED-4262 (Tch Content/Process:Science Ed) Section: 01
ECED-4262 (Tch Content/Process:Science Ed) Section: 02

Spring 2014 Sections

UTCH-3002 (Classroom Interactions) Section: 01
ECED-4262 (Tch Content/Process:Science Ed) Section: 01
ECED-4262 (Tch Content/Process:Science Ed) Section: 02
ECED-4262 (Tch Content/Process:Science Ed) Section: 51
Selected Publications
"Beauty of the Beast," Teacher's Guide Curriculum. Package with Zoo Atlanta and Chicago's Field Museum of Natural History