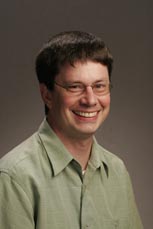 Marty Bray, Ph.D.
Associate Professor
Phone: 678-839-6152 | Fax: 678-839-6153
Email: mbray@westga.edu
Office: Education Annex 144
Biography
Dr. Marty Bray is Associate Professor of Instructional Technology in the College of Education and coordinator of the M.Ed. in Instructional Technology program. He teaches graduate courses in Instructional Technology. His research focuses on the uses of technology with diverse students, especially website accessibility. Publications include an analysis of the accessibility of Middle Schools' websites and a book on using Technology with Diverse Learners. Prior to his appointment at UWG, Dr. Bray worked with students with special needs, as a media specialist, and as a computer coordinator in the North Carolina public schools. He has been on faculty at UNC-Charlotte and at California State University, Fullerton.
Education/Degrees
B.S., Bachelor of Science, History Education, Appalachian State University, 1986
M.S., Master of Library Science, Appalachian State University, 1991
M.S., Master of Science in Education, Indiana University, 1995
Ph.D., Instuctional Systems Technology, Indiana University, 1998
Courses Taught
Spring 2013

SPED-7702 (Technology in Special Educ) Section: N01
Selected Publications
Bray, J., Mills, M., Bray, L.M., Lennox, R., McRee, B., Goehner, D., & Higgins-Biddle, J. (2009). Evaluating Web-Based Training for Employee Assistance Program Counselors on the Use of Screening and Brief Intervention for At-Risk Alcohol Use. Journal of W [ View Publication ]
Bray, M., Brown, A., Green T. (2004). Technology and the Diverse Learner: A Guide to Classroom Practice. Thousand Oaks, CA: Corwin Press, Inc.
Bray, M., Smith, S., Flowers, C.P., Algozzine, R. (2003). Accessibility of elementary schools' web sites for students with disabilities. Education 123(4), 815-830. [ View Publication ]