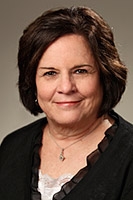 Donna Nicholas, Ed.S.
Instructor of Special Education
Phone: 678-839-6068 | Fax: 678-839-6162
Email: dnichola@westga.edu
Office: Education Annex 208
Hours: Mondays and by appointment.
Biography
Donna Nicholas is an instructor in the Departments of Clinical and Professional Studies and Early Learning and Childhood Education. She teaches undergraduate and graduate courses and provides supervision for practicum students in both departments. Prior to her appointment at UWG, Ms. Nicholas was employed in public education for 35 years in the field of special education. During her tenure in public education she worked as a classroom teacher, lead teacher, educational diagnostician, assistant special education director, special education director and a system director of the Georgia Pre-kindergarten Program. She has just recently retired from the Carroll County School System in Carrollton, GA. She has also done private educational consultation work for public schools and a private preschool facility.
Education/Degrees
B.Ed., Special Education, West Georgia College, 1976
M.Ed., Interrelated Special Education, West Georgia College, 1977
Ed.S., Special Education, West Georgia College, 1987
Courses and Sections
Courses Taught

SPED-3715 (The Incl Classrm: Diff Inst)
SPED-3751 (Practicum I)
SPED-3761 (Mild Dis: Meth for Lit & SS)
SPED-4786 (Internship in Special Educ)
SPED-6706 (Spec Educ in Regular Classroom)
SPED-6709 (Reg & Requirements in Spec Ed)
SPED-6766 (Inst Stategies for Mild Disab)
SPED-6767 (Differ Ins for Excep Learners)

Summer 2014 Sections

Spring 2014 Sections

Fall 2013 Sections

Summer 2013 Sections

Spring 2013 Sections
Professional Interests
Ms. Nicholas indicates she has a passion for working for the betterment of educational opportunities for all children. Having the opportunity to work with individuals who will provide instruction to our youth she sees as a challenge she enjoys greatly. She feels providing support to future teacher candidates and teachers seeking advanced degrees will be the culmination of her career.
Personal Interests
Ms. Nicholas adores spending time with her 8 grandchildren ranging in ages from 17 to 5. She enjoys reading Nicholas Sparks novels and watching HGTV. One of her favorite past time is spending time with her husband, Ronny, at their condo in Panama City Beach. She has a Jack Russell Terrier named Patch.