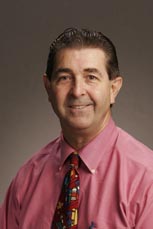 Ronald Reigner, Ph.D.
Associate Professor of Language and Literacy & Director of the Developmental and Diagnostic Clinic
Phone: 678-839-6086 | Fax: 678-839-6099
Email: rreigner@westga.edu
Office: Education Annex 248
Biography
Dr. Ron Reigner is an Associate Professor of Reading Education in the College of Education and Director of the Developmental and Diagnostic Reading Clinic. He teaches courses in reading instruction, children's literature, and reading diagnosis and assessment at the undergraduate and graduate level. His research focuses on affective dimensions of literacy acquisition, children's access to literature, and fluency/prosody and its effect on comprehension. Recent publications have focused on free book programs for children under five and the effect of trauma on reading. Dr. Reigner serves on the West Georgia Regional Library Board, the Carroll County Library Board, and on the boards of the Friends of the Neva Lomason Memorial Library and the Carroll County Ferst Foundation for Childhood Literacy.
Education/Degrees
B.A., Religion/Sociology, Emory University, 1973
M.Ed., Instructional Leadership in Reading, University of Illinois at Chicago, 1986
PhD, Curriculum and Instruction in Reading, University of Illinois at Chicago, 1995
Courses Taught
Selected Publications