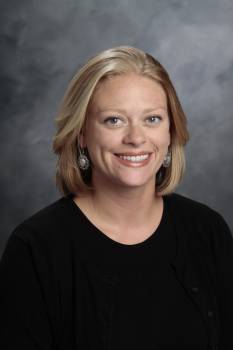 Sandra Hess Robbins, Ph.D.
Assistant Professor of Early Childhood and Special Education
Phone: 678-839-6164 | Fax: 678-839-6162
Email: srobbins@westga.edu
Office: Education Annex 226
Biography
Dr. Sandra (Sandy) Hess Robbins specializes in early childhood special education theory and practice. Sandy teaches Special Education for the Department of Learning and Teaching at the University of West Georgia. Sandy completed her Ph.D. in Special Education with a focus on Early Childhood Intervention at Kent State University. She also has a Master's degree in Special Education from Kent State University and a Bachelor's degree in Elementary Education from The University of Wisconsin, Oshkosh. Sandy is an active member of the Council for Exceptional Children's Teacher Education Division, Division for Early Childhood, Division for International Special Education Services, and Division for Autism and Developmental Disabilities. Before completing her Doctorate, Sandy gained seven years of experience teaching in various preschool settings, engaging in home-based behavioral consulting, conducting research and training in a center for young children with autism, and serving as an early education consultant for the state of Ohio. Sandy's scholarship is centered on professional practices and interventions that increase the effectiveness of inclusive or blended educational settings. More specifically, her research agenda includes tiered and differentiated instruction, universal design for learning, teacher preparation and enhancement, and social, communication, and behavioral interventions for young children with disabilities.
Education/Degrees
BS Ed., Elementary Education, University of Wisconsin, Oshkosh, 2002
M.Ed., Special Education, Kent State University, 2006
Ph.D., Special Education, Kent State University, 2013
Selected Publications
Robbins, S.H. (2013). The effects and feasibility of using tiered instruction to increase conversational turn taking for preschoolers with and without disabilities (Doctoral dissertation). Retrieved from OhioLINK. (kent1365610657)
Robbins, S.H. (2013). The effects and feasibility of tiered instruction. Saarbrucken, Germany: Scholar's Press.
Harjusola-Webb, S. & Robbins, S.H. (2012). The effects of teacher training on teacher delivered opportunities for expressive communication in young children with autism spectrum disorders. Topics in Early Childhood Special Education, 32, 99-110.
Robbins, S.H., Pretti-Frontczak, K., & Grisham-Brown, J. (2010). Recommended practices for assessing children with diverse abilities, in J. Grisham-Brown & K. Pretti-Frontczak (Eds.) Assessment practices for working with young children in blended classroom
Courses and Sections
Courses Taught

SPED-3714 (Behavior & Classroom Mgmt)
SPED-3761 (Mild Dis: Meth for Lit & SS)
SPED-4713 (Collaboration in Sch Settings)
SPED-4789 (Internship Seminar)
SPED-6766 (Basc Curulm & Mthds:Gen Curulm)
SPED-6793 (Practicum II: Special Educ)
SPED-7722 (Collaboration in Spec Edu)
SPED-8771 (Curriculum Design & Implement)

Summer 2016 Sections

SPED-6766 (Basc Curulm & Mthds:Gen Curulm) Section: E01
SPED-8771 (Curriculum Design & Implement) Section: E01

Spring 2016 Sections

SPED-3761 (Mild Dis: Meth for Lit & SS) Section: 01
SPED-4789 (Internship Seminar) Section: 01
SPED-6766 (Basc Curulm & Mthds:Gen Curulm) Section: E01

Fall 2015 Sections

SPED-4713 (Collaboration in Sch Settings) Section: 01D
SPED-6766 (Basc Curulm & Mthds:Gen Curulm) Section: E01
SPED-7722 (Collaboration in Spec Edu) Section: E01

Summer 2015 Sections

SPED-7722 (Collaboration in Spec Edu) Section: E01
SPED-8771 (Curriculum Design & Implement) Section: E01

Spring 2015 Sections