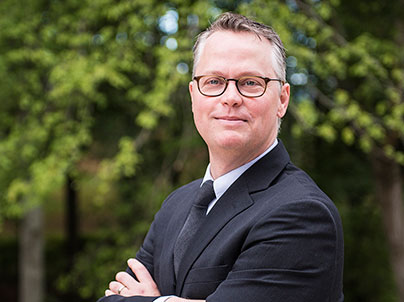 Jason Huett, Ph.D.
Associate Dean and Associate Professor
Phone: 678-839-6177 | Fax: 678-839-6153
Email: jhuett@westga.edu
Office: Old Auditorium 1
Hours: By appointment
Biography
Dr. Jason B. Huett is the Associate Dean of Online Development and USG eCore. He is also a tenured Associate Professor of Instructional Technology and Design at the University of West Georgia (UWG) and the 2012 President-elect of the Distance Learning Division of the Association for Educational Communications and Technology (AECT). He speaks and presents internationally on a topics concerning distance education and online learning. He is a member of noted editorial boards, and serves as a consultant for several virtual schools, universities, corporations, and the State of Georgia.

He was a featured researcher at the 2006 AECT International Convention in Dallas, Texas and has published numerous articles, including award-winning publications, in journals such as The American Journal of Distance Education, Quarterly Review of Distance Education, The Information Systems Education Journal, International Journal of Instructional Technology and Distance Learning, Online Journal of Distance Learning Administration, and TechTrends. He also has several book chapters in print and has edited two books: Learning and Instructional Technologies for the 21st Century: Visions of the Future and The Next Generation of Distance Education: Unconstrained Learning.

Jason is currently a contributing editor for the new Journal of Applied Instruction Design, and he also co-chaired the 2010 AECT Summer Research Symposium which focused on distance education. He was a lead designer on a new online doctorate in School Improvement that launched its first cohort in summer 2011 and has aided in the design of numerous online programs and classes from 6th grade through the doctoral level. Recently, he helped author a strategic plan to advance online teaching and learning at UWG that received unanimous support from the Faculty Senate.

His other research interests include online communications, distance learner motivation, online collaborative learning, instructional design for online environments, standards for distance education, competency-based approaches to distance learning environments, and K-12 online learning.

Jason lives with his wife, three children, and an over-grown clown of a Boxer pup in Carrollton, GA and is a self-professed science fiction junkie and tech geek. The personalized license plate on his car reads "KHAAAAAN!"
Education/Degrees
Doctor of Philosophy in Educational Computing, University of North Texas,
Master of Science in Secondary Education, Texas A & M University, Corpus Christi,
Bachelor of Arts in English and Biology, Texas State University,
Selected Publications
Huett, K., Huett, J., & Ringlaben, R. (2011). From bricks to clicks: Building quality K-12 online classes through an innovative course review partnership. Online Journal of Distance Learning Administration.
Moller, L., & Huett, J. (Eds.). (2012). The next generation of distance education: Unconstrained learning. New York: Springer Press.
Huett, J., Huett, K., & Bennett, E. (2010). The Way of the wiki: Using a wiki as a management tool for online programs. Online Journal of Distance Learning Administration, 8(3).
Huett, J., Sharp, J., & Huett, K. (2010). What's all the FOSS? How freedom and openness are changing the face of our educational landscape. International Journal of Open Source Software and Processes, 1(2), 1-14.
Huett, J., Kalinowski, K., Moller, L., & Huett, K. (2008). Improving the motivation and retention of American students online through the use of ARCS‐based emails. The Journal of Distance Education, 22 (3), 159-176. [View Publication]
Moller, L., Huett, J., Harvey, D. (Eds.). (2008). Learning and instructional technologies for the 21 century: Visions of the future. New York: Springer Press.
Huett, J., Coleman, C., Moller, L., Foshay, W. (2008). The evolution of distance education: Implications for instructional design on the potential of the web (Part 3: K-12). TechTrends, 52(5).
Prince, B., Huett, J., & Cegielski, C. (2008). An exploration of the impact of speech recognition technologies on group efficiency and effectiveness. Review of Business Research, 8(6).
Courses and Sections
Courses Taught

MEDT-6401 (Instructional Technology)
MEDT-7475 (The Dist Educ Professional)

Summer 2015 Sections

MEDT-6401 (Instructional Technology) Section: E01

Spring 2014 Sections

MEDT-7475 (The Dist Educ Professional) Section: N01