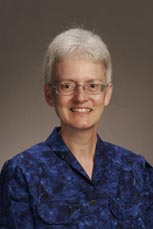 Dawn Putney, Ph.D.
Professor
Phone: 678-839-6151 | Fax: 678-839-6153
Email: dputney@westga.edu
Office: Education Annex 127
Hours: Mon./Wed./Fri. 12:00 - 4:00
Online Tues 6:00 - 8:00 pm
Biography
Dr. Dawn Putney is Professor in the College of Education and coordinator of the M.Ed., Add-On, and Ed.E. programs in School Library Media. She teaches graduate courses in School Library Media and Instructional Design. Presentations include topics such as Creating Web-Based Aids, LibraryThing, and Podcasting. Publications include topics such as Innovations in School, Podcasting, and Multilevel Literacy Center Models. Prior to her appointment at UWG, Dr. Putney was on faculty at the University of Dubuque and worked in public school settings in a variety of positions.
Education/Degrees
B.S., Bachelor of Science, University of North Alabama, 1975
M.Ed., Master of Education, West Georgia College, 1981
Ph.D., Doctor of Philosophy, University of Iowa, 1987
Courses and Sections
Courses Taught

CURR-6575 (Curriculum Trends and Issues)
ECED-7265 (Parent Ed/Teach Chld Care Wkrs)
ECED-7266 (The Young Child: Home & Commun)
ECED-7273 (Family/Comm Inv for Sch Improv)
EDSI-9998 (Research for Doc Dissertation)
EDUC-2130 (Expl Learning and Teaching)
MEDT-7461 (Instructional Design)
MEDT-7487 (Practicum)
UWG-1101 (First Year Univ. Experience)

Fall 2015 Sections

UWG-1101 (First Year Univ. Experience) Section: 32
CURR-6575 (Curriculum Trends and Issues) Section: E01
ECED-7265 (Parent Ed/Teach Chld Care Wkrs) Section: E01
MEDT-7461 (Instructional Design) Section: E01
MEDT-7461 (Instructional Design) Section: E02

Summer 2015 Sections

Spring 2015 Sections

EDUC-2130 (Expl Learning and Teaching) Section: L2L
EDUC-2130 (Expl Learning and Teaching) Section: LXL
ECED-7266 (The Young Child: Home & Commun) Section: E01
MEDT-7461 (Instructional Design) Section: E01
MEDT-7487 (Practicum) Section: E01

Fall 2014 Sections

UWG-1101 (First Year Univ. Experience) Section: 15
EDUC-2130 (Expl Learning and Teaching) Section: 01D
ECED-7265 (Parent Ed/Teach Chld Care Wkrs) Section: N01
MEDT-7461 (Instructional Design) Section: N01
MEDT-7487 (Practicum) Section: N01

Summer 2014 Sections

ECED-7273 (Family/Comm Inv for Sch Improv) Section: N01
MEDT-7461 (Instructional Design) Section: N01
MEDT-7487 (Practicum) Section: N01
EDSI-9998 (Research for Doc Dissertation) Section: N25

Spring 2014 Sections

EDUC-2130 (Expl Learning and Teaching) Section: 02D
EDUC-2130 (Expl Learning and Teaching) Section: 03D
ECED-7266 (The Young Child: Home & Commun) Section: N01
MEDT-7461 (Instructional Design) Section: N01
EDSI-9998 (Research for Doc Dissertation) Section: N18
Selected Publications
Putney, D. & Morris, R. (2011). Educational Reform Revisited. Choice: Current reviews for academic libraries, 49(3), 431-444. [View Publication]
Morris, R. & Putney, D. (in press). Innovation in schools. In, T.C. Chan, B. Jiang, & R. Ouyang (eds.) Educational administration in U.S. schools. People's University Press, Beijing, China. [View Publication]