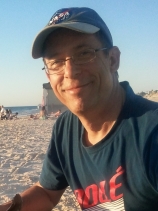 George Bradford, Ph.D.
Assistant Professor
Phone: 678-839-6152 | Fax: 678-839-6153
Email: gbradfor@westga.edu | drgeorgerbradford@gmail.com
Office: Education Annex 129
Hours: Tuesdays 10:00am to 3:00 pm or by appointment

To schedule an appointment, go here: http://www.meetme.so/GeorgeBradford
Biography
George is an Assistant Professor at the University of West Georgia in the College of Education, department of Educational Technology & Foundations, where he teaches online graduate courses on topics of media and technology, instructional design, and more. George is continuing his established research agenda in teaching-learning effectiveness with current focus on leveraging technology to facilitate teaching in expanding class sizes, developing organizational analysis methods to sustain or improve innovation in online teaching-learning practices, and exploring emerging learning analytics and their implementation to study design effectiveness for learning online.

Recently, George held the position of Senior Lecturer Academic Development with the Learning and Teaching Unit (LTU) at the University of South Australia. He completed his doctorate at the University of Central Florida in Instructional Technology with a dissertation study that took an innovative approach to research the influence of mental effort on student satisfaction with online learning. He completed a Master of Arts in Educational Technology at San Diego State University in 1995, and Bachelor of Arts in Business and Economics from the University of California, Santa Barbara in 1981. George has over 20 years experience in multiple roles, such as an instructional designer, technical marketing, consultant to Fortune 100 businesses, and educator. From 2007 through 2010, George supported faculty development with teaching and learning online and held a leadership role in the redesign of an award-winning faculty development program for technology-enhanced learning environments at the University of Central Florida.
Education/Degrees
B.A., Bachelor of Arts, Business and Economics, University of California, Santa Barbara, 1981
Graduate Certificate, Post Graduate Academic Certification, Applied Linguistics and Teaching English as a Second/Foreign Language, San Diego State University, 1984
M.A., Master of Arts in Education, Specialization in Educational Technology, San Diego State University, 1996
Ph.D., Doctor of Philosophy in Education, Specialization Instructional Technology, University of Central Florida, 2010
Courses and Sections
Courses Taught

EDSI-9998 (Research for Doc Dissertation)
MEDT-7462 (Internet Tools,Resources,& Iss)
MEDT-7464 (Design Tech Enhanced Instr)
MEDT-7466 (Digital Photo in Instruction)
MEDT-7467 (Web Design for Instruction)
MEDT-7468 (Instruct Mult Design & Dev)

Spring 2015 Sections

MEDT-7464 (Design Tech Enhanced Instr) Section: E02
MEDT-7466 (Digital Photo in Instruction) Section: E01
MEDT-7468 (Instruct Mult Design & Dev) Section: E01
EDSI-9998 (Research for Doc Dissertation) Section: E27

Fall 2014 Sections

MEDT-7464 (Design Tech Enhanced Instr) Section: N03 [View Syllabus]
MEDT-7466 (Digital Photo in Instruction) Section: N01 [View Syllabus]
MEDT-7468 (Instruct Mult Design & Dev) Section: N01 [View Syllabus]
EDSI-9998 (Research for Doc Dissertation) Section: N27

Summer 2014 Sections

MEDT-7462 (Internet Tools,Resources,& Iss) Section: N01
MEDT-7466 (Digital Photo in Instruction) Section: N01
MEDT-7468 (Instruct Mult Design & Dev) Section: N01

Spring 2014 Sections

MEDT-7466 (Digital Photo in Instruction) Section: N01
MEDT-7467 (Web Design for Instruction) Section: N01
MEDT-7468 (Instruct Mult Design & Dev) Section: N01
Selected Publications
Hirumi, A., Bradford, G., and Rutherford, L. (2011). Selecting Delivery Systems and Media to Facilitate Blended Learning: A Systematic Process based on Skill Level, Content Stability, Cost and Instructional Strategy. MERLOT 7(4). [View Publication]
Bradford, G., Kehrwald, B., & Dinmore, S. (2011). A framework for evaluating online learning in an ecology of sustainable innovation. In G. Williams, P. Statham, N. Brown & B. Cleland (Eds.), Changing Demands, Changing Directions (pp. 162-167). [View Publication]
Dinmore, S., Kehrwald, B. & Bradford, G. (2011). Embedding an ePortfolio at a programmatic level. In G. Williams, P. Statham, N. Brown & B. Cleland (Eds.), Changing Demands, Changing Directions (pp. 345-351). [View Publication]
Bradford, G. (2011). A Relationship Study of Student Satisfaction with Learning Online and Cognitive Load: Initial Results. Journal of Internet and Higher Education 14(4), 217-226. Maryland Heights, MO: Elsevier. [View Publication]
Dziuban, C., Moskal, P.D., Bradford, G.R., Brophy-Ellison, J., Groff, A. (2010). Constructs that influence net generation satisfaction with online learning. In R. Sharpe, H. Beetham, & S. de Freitas (Eds.), Rethinking Learning for a Digital Age. Routledge.
Bradford, G. and Wyatt, S. (2010). Online Learning and Student Satisfaction: Academic Standing, Ethnicity and their Influence on Facilitated Learning, Engagement, and Information Fluency. Journal of Internet and Higher Education. [View Publication]