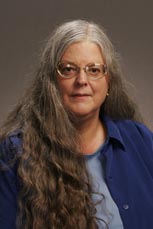 Margaret A. (Meg) Cooper, Ph.D.
Associate Professor of Special Education
Phone: 678-839-6158 | Fax: 678-839-6162
Email: mcooper@westga.edu
Office: Education Annex 206
Biography
Dr. Meg Cooper is Associate Professor of Special Education and currently coordinates special education programs for the Department of Clinical and Professional Studies. She teaches courses at all program levels and in all program areas, but specializes in severe and multiple disabilities and coordinates the MEd program in Special Education-Adapted Curriculum. Her research focuses on a variety of aspects of instruction of youngsters with significant cognitive impairment and multiple disabilities, including augmentative communication, specialized assessment strategies, collaborative teaming models, and group/embedded instruction. She has worked in more than 25 different states, including providing technical assistance and presenting at workshops. Prior to her appointment at UWG, Dr. Cooper taught youngsters with disabilities at all grade levels, worked as an educational diagnostician, and worked as a consultant to a variety of school and clinical programs. She taught in a variety of IHEs, including the University of Alabama in Birmingham, Vanderbilt University, Florida State University, and Auburn University.
Education/Degrees
B.A., Psychology, Antioch College, 1974
M.S., Special Education, George Peabody College for Teachers, 1977
Ph.D., Special Education, Kent State University, 1985
Courses and Sections
Courses Taught

SPED-4709 (Special Edu Policies & Proced)
SPED-4712 (Lang, Comm, & Tech: Mild Disab)
SPED-6709 (Reg & Requirements in Spec Ed)
SPED-7721 (Assessment in Special Educ)
SPED-7729 (Special Education Law)

Summer 2016 Sections

SPED-6709 (Reg & Requirements in Spec Ed) Section: E01
SPED-7721 (Assessment in Special Educ) Section: E01
SPED-7729 (Special Education Law) Section: E01
SPED-7729 (Special Education Law) Section: E02

Spring 2016 Sections

SPED-4712 (Lang, Comm, & Tech: Mild Disab) Section: 01
SPED-6709 (Reg & Requirements in Spec Ed) Section: E01
SPED-7721 (Assessment in Special Educ) Section: E01
SPED-7729 (Special Education Law) Section: E01

Fall 2015 Sections

SPED-4709 (Special Edu Policies & Proced) Section: 01
SPED-4712 (Lang, Comm, & Tech: Mild Disab) Section: 01D
SPED-4712 (Lang, Comm, & Tech: Mild Disab) Section: 02D
SPED-6709 (Reg & Requirements in Spec Ed) Section: E01
SPED-6709 (Reg & Requirements in Spec Ed) Section: E02

Summer 2015 Sections

SPED-6709 (Reg & Requirements in Spec Ed) Section: E01
SPED-7729 (Special Education Law) Section: E01
SPED-7729 (Special Education Law) Section: E02

Spring 2015 Sections

SPED-6709 (Reg & Requirements in Spec Ed) Section: E01
Selected Publications
Cooper, M. (2010). Cognitive assessment of nonverbal young children who have significant motor disability: Challenges and solutions. Physical Disabilities: Education and Related Services, XVIII, 19-33.
Baldwin, J., Heller, K. W., Cooper, M., Coleman, M. B., Mezei. P., & Avant., J. (2009). Initial special education teachers knowledge and skills standards for individuals with physical and health disabilities. In Council for Exceptional Children, What ever
Cooper, M. (2006, April). Integrating health care routines and instruction for students with severe multiple disabilities. Presentation at the annual international convention of the Council for Exceptional Children, Salt Lake City, UT. Note: This presentat
Professional Interests
Multiple & Severe Disabilities; Intellectual Disability (moderate, severe, profound); Early Childhood Special Education; Inclusion; Integrated Instruction and Service Delivery; Augmentative and Alternative Communication; Facilitated Communication