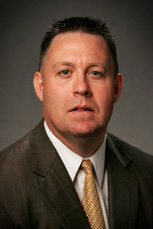 Andy Nixon, Ed. D.
Associate Professor
Phone: 678-839-6172 | Fax: 678-839-6195
Email: anixon@westga.edu
Office: Coliseum 2047
Biography
Dr. Andy Nixon is an associate professor in the Department of Leadership and Instruction. Dr. Nixon teaches graduate courses in Educational Leadership, specializing in school operations, finance, and change. His research agenda is primarily focused on reasons that school principals non-renew teacher contracts. Prior to appointment at UWG, Dr. Nixon was a school superintendent in Indiana. He has also served as a high school social studies teacher, high school assistant principal, high school athletic director, high school principal, and assistant superintendent.
Education/Degrees
B.A., History, DePauw University, 1986
M.A.T., Social Studies, DePauw University, 1988
Ed.S., School Superintendent, Ball State University, 1996
Ed.D., Educational Administration, Ball State University, 2002
Courses and Sections
Courses Taught

EDLE-8301 (Ed. Leadership Residency Lab I)
EDLE-8302 (Ed. Leadership Resid. Lab II)
EDLE-8303 (Ed. Leadership Resid. Lab III)
EDLE-8305 (Effec Mgmt to promote learning)
EDLE-8312 (School Finance)
EDLE-8313 (Leadership Improving Schools)
EDLE-8314 (Local School Leadership)
EDLE-8324 (Ethics in Educational Leadersh)
EDSI-9998 (Research for Doc Dissertation)

Summer 2016 Sections

EDLE-8301 (Ed. Leadership Residency Lab I) Section: 92D
EDLE-8303 (Ed. Leadership Resid. Lab III) Section: 92D
EDLE-8312 (School Finance & Resource Mgmt) Section: E01
EDSI-9998 (Research for Doc Dissertation) Section: E14

Spring 2016 Sections

EDLE-8302 (Ed. Leadership Resid. Lab II) Section: 92D
EDLE-8303 (Ed. Leadership Resid. Lab III) Section: 92D
EDLE-8312 (School Finance) Section: E01
EDSI-9998 (Research for Doc Dissertation) Section: E28
EDSI-9998 (Research for Doc Dissertation) Section: E15

Fall 2015 Sections

EDLE-8301 (Ed. Leadership Residency Lab I) Section: 93D
EDLE-8302 (Ed. Leadership Resid. Lab II) Section: 92D
EDLE-8312 (School Finance & Resource Mgmt) Section: E01
EDSI-9998 (Research for Doc Dissertation) Section: E21

Summer 2015 Sections

EDLE-8301 (Ed. Leadership Residency Lab I) Section: 92D
EDLE-8305 (Effec Mgmt to promote learning) Section: E01
EDLE-8324 (Ethics in Educational Leadersh) Section: E01
EDSI-9998 (Research for Doc Dissertation) Section: E21

Spring 2015 Sections

EDLE-8312 (School Finance) Section: E01
EDLE-8313 (Leadership Improving Schools) Section: E01
EDLE-8314 (Local School Leadership) Section: E01
EDSI-9998 (Research for Doc Dissertation) Section: E09
Selected Publications