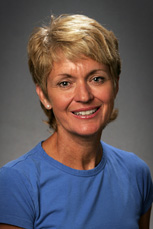 Elizabeth Butts
Health & Wellness Promotion Coordinator
Phone: 678-839-0642 | Fax: 678-839-0656
Email: ebutts@westga.edu
Office: Row Hall
Biography
Elizabeth Butts has been at UWG for five years as an instructor in the Health, Physical Education, and Personal Wellness and Leisure Activities units of the Department of Leadership & Applied Instruction. Previously she came to UWG as a high school counselor in Fort Worth, Texas. Liz has over fourteen years of diverse public school experience in Texas and Alabama.
Selected Publications
Butts, Elizabeth. University Wellness Programs (Winter 1990), National Association of Student Personnel Administrators (NASPA) Journal.