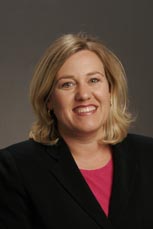 Laura Hatfield, Ph.D.
Assistant Professor
Phone: 678-839-6191 | Fax: 678-839-6195
Email: lhatfiel@westga.edu
Office: Coliseum 2043
Biography
Dr. Laura Hatfield, Sport Management Program Coordinator, brings extensive experience to the UWG Sport Management program. Her background includes working in intercollegiate athletics in both student-athlete academic advisement and fundraising/development. In addition, she previously served as an assistant coach and head coach for the volleyball program at Liberty University. She also served as an assistant volleyball coach at the University of Southern Mississippi. Dr. Hatfield also has extensive experience organizing summer volleyball camps. Because of her background, Dr. Hatfield has had the opportunity to teach a number of courses in sport management and coaching development. Before arriving at the University of West Georgia, Dr. Hatfield taught in the sport management programs at the University of Southern Mississippi and Texas A&M University.
Education/Degrees
B.S., Community Health Promotion, Liberty University, 1993
B.S., Sport Management, Liberty University, 1997
M.S., Sport Administration, University of Southern Mississippi, 2000
Ph.D., Human Performance, University of Southern Mississippi, 2003
Courses Taught
Selected Publications
Hatfield, L.C. & Hatfield, L.M. An examination of the effects of personal conflict management behaviors on workplace related conflict and stress among NCAA Division I compliance coordinators. Data Collected. Presentation given at AAHPERD in 2009. [ View Publication ]
Hatfield, L.M., Hatfield, L.C., & Drummond, J.L. (2009). The perceived role of Senior Woman Administrators in NCAA Division I institutions. The Sport Journal (online), 12(4). The Senior Woman Administrator (SWA), originally named the Primary Woman Adminis [ View Publication ]
Hatfield, L.M. & Hatfield, L.C. (2005). Careers in the Sport Industry. In P.G. Comfort (Ed.), Directory of undergraduate programs in sport management (pp. xxix-xxxii). Morgantown, WV: Fitness Information Technology.