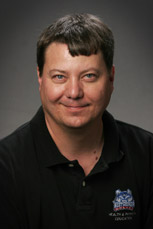 Jeff Johnson, Ph.D.
Associate Professor
Phone: 678-839-6194 | Fax: 678-839-6195
Email: jeffj@westga.edu
Office: Coliseum 2107
Biography
Dr. Johnson joined the University of West Georgia in summer 2004. Dr. Johnson has been an active member of the American College of Sports Medicine (ACSM) since 1992 and the American Alliance for Health, Physical Education, Recreation, and Dance (AAHPERD) since 2004. Dr. Johnson has presented research at the annual conferences for each of these organizations and at regional and state conferences as well. Dr. Johnson's research interests include sport performance enhancement, pathological gait, and strategies to decrease the obesity epidemic.
Education/Degrees
B.S., Health and Physical Education, Georgia State University, 1988
M.S., Sports Medicine (Biomechanics), Georgia State University, 1994
Ph.D., Sport Science (Biomechanics), Georgia State University, 2001
Courses and Sections
Courses Taught

PHED-2603 (Human Anatomy & Physiology I)
PHED-2604 (Human Anatomy & Physiology II)
PHED-2628 (First Aid & CPR for Ed majors)
PHED-3625 (Motor Behavior)
PHED-4500 (Personal & Comm Health Issues)
PHED-4605 (Applied Biomechanics)
PWLA-1643 (First Aid and CPR)

Fall 2015 Sections

PWLA-1643 (First Aid and CPR) Section: N02
PWLA-1643 (First Aid and CPR) Section: N03
PHED-2603 (Human Anatomy & Physiology I) Section: 01
PHED-4500 (Personal & Comm Health Issues) Section: 01
PHED-4605 (Applied Biomechanics) Section: 01

Summer 2015 Sections

PHED-2603 (Human Anatomy & Physiology I) Section: 01

Fall 2014 Sections

PWLA-1643 (First Aid and CPR) Section: N01
PWLA-1643 (First Aid and CPR) Section: N02
PHED-2603 (Human Anatomy & Physiology I) Section: 01
PHED-3625 (Motor Behavior) Section: 01
PHED-4605 (Applied Biomechanics) Section: 01

Summer 2014 Sections

PWLA-1643 (First Aid and CPR) Section: N02
PHED-2603 (Human Anatomy & Physiology I) Section: 01
PHED-2628 (First Aid & CPR for Ed majors) Section: N01

Spring 2014 Sections

PWLA-1643 (First Aid and CPR) Section: N01
PHED-2604 (Human Anatomy & Physiology II) Section: 01
PHED-2628 (First Aid & CPR for Ed majors) Section: N01
Selected Publications