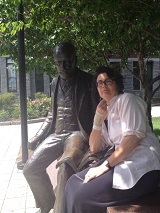 Kareen R. Malone, Ph.D.
Professor and Director of PhD Program
Phone: 678-839-0616 | Fax: 678-839-0611
Email: kmalone@westga.edu
Office: Melson Hall 205
Biography
Kareen received her Ph.D. from the University of Dallas in psychology and literature. She studied phenomenological psychology at Duquesne University, phenomenology and humanistic psychology at Georgia State University and Jungian approaches and literature at the University of Dallas with Robert Romanyshyn and Thomas Moore. She has studied feminism & philosophy of Science, and Cognitive Science at the Georgia Institute of Technology. She is in the process of analytic formation with Après Coup in Lacanian psychoanalysis. Après-Coup is an association for analytical formation and the discussion of psychoanalysis and culture. It offers seminars by international researchers, scholars and psychoanalysts; it is chartered by the Board of Regents of the State of New York. She studied with Ecole freudienne de Quebec and GIFRIC in Quebec Canada known for their successful non biological treatment of psychosis. She has co-edited three anthologies on Lacanian psychoanalysis, the most recent on Lacan and Addiction (Karnac Press, 2011). She recently co-authored a text on psychology and science from Cambridge University Press. She is faculty of women's studies at West Georgia. Kareen is the Director of the Doctoral program in Consciousness and Society. She is a fellow of the American Psychological Association. In 2010, she is a Past-President of Division 24, The Society for Theoretical and Philosophical Psychology. Kareen integrates Lacanian psychoanalysis and cultural studies with the goals of a more emancipatory psychology, clinical practice, and reflective discipline. She is Associate Editor of Theory and Psychology, and on the editorial board of Psychoanalysis, Culture & Society and Subjectivity: International Journal of Critical Psychology.
Education/Degrees
B.A., Psychology, Reed College, 1977
MA, Psychology (with Clinical emphasis), Duquesne University, 1979
PhD, Psychology, University of Dallas, 1990
Courses Taught
Spring 2013

PSYC-6899 (Thesis) Section: 07
PSYC-7810 (Adv Lacanian Psychoanalysis) Section: 03
PSYC-7810 (Tutorial: Yoga Psychology) Section: 05
PSYC-8010 (Theoretical Found of Psyc Inqu) Section: 01
PSYC-8584 (AdvSem:DoctoralQualifyingSem) Section: 02
Selected Publications
Malone, K. and Barabino, G. (2008). Narrations of Race in STEM Research Settings: Identity Formation and its Discontents for Science Education, 93, 489-510.
Malone, K. and Barabino, G. (2008). Narrations of Race in STEM Research Settings: Identity Formation and its Discontents for Science Education, published on-line: http://www3.interscience.wiley.com/journal/108069556/issue.
Malone, K. (2008). Psychoanalysis: Formalization and Logic and the question of speaking and Affect. Special issue on psychoanalysis and culture: Theory and Psychology.179-193.
Malone, K. (2007). The subject as drop-out: Cultural Accountability and the ethics of psychoanalysis and humanistic psychology. Theory and Psychology. 17, 449-471.
Osbeck, L. Malone, K., and Nersessian, N. (2007). Dissenters in the Sanctuary: Evolving Frameworks in 'Mainstream' Cognitive Science. Theory and Psychology, 17, 243-264.
Malone, K. & Newstetter, W. (2006). Valuing Diversity As It Happens: Exploring Laboratory Interactions Where More Is Going Than Science. Frontiers in Education Proceedings, Piscataway, NJ: IEEE. CD ROM.
Malone, K. (2006). Regulations and Standards for psychoanalysis: The place of the Other in psychoanalysis and its teaching. The European Journal of Psychotherapy and Counseling, 8, 269-284.