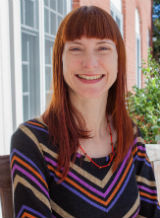 Christine Simmonds-Moore, Ph.D.
Assistant Professor
Phone: 678-839-5334 | Fax: 678-839-0611
Email: csimmond@westga.edu
Office: Melson Hall 215
Hours: M: 2:00-4:00pm
W: 1:00-3:00pm
F: 9:00-11:00am or by appointment
Biography
Christine Simmonds-Moore earned her Ph.D in psychology (investigating schizotypy as an anomaly-prone personality) from University of Northampton in the UK. In 2010, she left her native UK (where she had been working as a psychology professor at Liverpool Hope University) for the USA. Christine worked as a Senior Research Fellow at the Rhine Research Center in Durham North Carolina until she moved to Carrollton in August 2011 to join the psychology department at UWG. Her research interests include the study of personality types who are prone to subjective anomalous and paranormal experiences and beliefs (in particular, positive schizotypy and transliminality); transpersonal experiences; the overlaps between parapsychology and clinical psychology/mental health; cognitive and neurobiological correlates of paranormal experiences (e.g., attention); synesthesia and anomalous experiences and how sleep-related and other altered states of consciousness relate to subjective anomalous experiences. Christine has worked on a variety of Bial (and other) funded research projects, including anomalous healing, ganzfeld research, virtual reality and ESP, gender role and anomalous experiences and beliefs, mental health, paranormal experiences and cognitive disinhibition, the similarity between subliminal processing and ESP and a project exploring paranormal belief and disbelief and the detection of signals amid random visual and auditory noise. She is the editor of �Exceptional Experience and Health: Essays on Mind, body and human potential�, a co-author of text book on Anomalistic Psychology and is working on a book about the relationship between schizotypy and exceptional experiences.
Education/Degrees
B.A., Psychology, University of Wales, Swansea, 1993
M. Phil., Cognitive Science, Dundee University, 1999
Ph.D., Psychology, Leicester University and University of Northampton, 2003
Postgraduate Diploma, Consciousness and Transpersonal Psychology, Liverpool John Moores University, 2008
Courses and Sections
Courses Taught

PSYC-1101 (Intro to General Psychology)
PSYC-3800 (Psychology of Mind/Body)
PSYC-3900 (Personality Theories)
PSYC-4085 (PsycIrishMediumship&Ghosts)
PSYC-4200 (Parapsychology)
PSYC-4650 (Transpersonal Development)
PSYC-4884 (Integrative Seminar)
PSYC-5085 (PsycIrishMediumship&Ghosts)
PSYC-5200 (Parapsychology)
PSYC-6083 (Research Methods)
PSYC-6899 (Thesis: Phen. of Flow State)
PSYC-7020 (Transpersonal Development)
PSYC-8002 (Studies in Mind-Body)

Fall 2015 Sections

PSYC-3800 (Psychology of Mind/Body) Section: 01
PSYC-4650 (Transpersonal Development) Section: 01
PSYC-4884 (Integrative Seminar) Section: 01
PSYC-6899 (Exploration & Placebo Effect) Section: 03
PSYC-6899 (The Placebo Effect) Section: 04
PSYC-7020 (Transpersonal Development) Section: 01

Summer 2015 Sections

PSYC-3900 (Personality Theories) Section: E01

Spring 2015 Sections

PSYC-6083 (Research Methods) Section: 02
PSYC-6899 (Thesis) Section: 03
PSYC-8002 (Studies in Mind-Body) Section: 01

Fall 2014 Sections

PSYC-4200 (Parapsychology) Section: N01 [View Syllabus]
PSYC-4884 (Integrative Seminar) Section: 01 [View Syllabus]
PSYC-5200 (Parapsychology) Section: N01 [View Syllabus]
PSYC-6899 (Thesis: Phenomenology) Section: 04

Summer 2014 Sections

PSYC-1101 (Intro to General Psychology) Section: 01S
PSYC-3800 (Psychology of Mind/Body) Section: 01
PSYC-4085 (PsycIrishMediumship&Ghosts) Section: 01S
PSYC-5085 (PsycIrishMediumship&Ghosts) Section: 01S
PSYC-6899 (Thesis: Phenomenology) Section: 03

Spring 2014 Sections

PSYC-6083 (Research Methods) Section: 01
PSYC-6083 (Research Methods) Section: 02
PSYC-6899 (Thesis: Phen. of Flow State) Section: 04