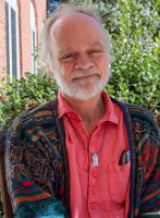 Mark Kunkel, Ph.D.
Associate Professor & Co-director of Undergraduate Program
Phone: 678-839-0621 | Fax: 678-839-0611
Email: mkunkel@westga.edu
Office: Melson Hall 210
Hours: MW: 3:30-5:30pm
T: 2:00-3:00pm
Or by Appointment
Biography
Dante was right - heaven and hell are about circles. The circling that brought me to West Georgia runs around a life-long appreciation for psychology as philosophy, science, social heuristic, and treatment modality, but mostly as a path through life. I lived and worked in Yucatan, Mexico (a second hearth), and worked in directing two doctoral programs in counseling psychology before coming to the-then State University of West Georgia on sabbatical in 1999. When I was invited the following year to give up tenure, take a pay cut, and commute 100 miles each way from Auburn, I jumped at the chance. And for the last years here I have enjoyed the kindest and wisest colleagues, and the most apt and adequate student classroom companions, that anyone could wish. I am a grateful guy.

In addition to my university work I practice (which is to say, never get �right�) psychology in psychotherapy and assessment, and enjoy these involvements as well. I enjoy music, dogs and cats, living in the country where I can pee outside and where I can see the stars, running and bicycling, fatherhood, and I savor the fierce, healing, and refining companionship of my wife Jeanette.
Courses and Sections
Courses Taught

PSYC-1101 (Intro to General Psychology)
PSYC-2010 (Psychology as a Human Science)
PSYC-4040 (Psychology of Dreams)
PSYC-4085 (Mentorship in Intro Gen Psyc)
PSYC-5040 (Psychology of Dreams)
PSYC-5085 (Mentorship in Intro Gen Psyc)
PSYC-6220 (The Counsel & Psychoth Process)
PSYC-6280 (Theory/Pract Clinical Assessm)
PSYC-6284 (Psychopathology and Health)
PSYC-6899 (Thesis)
PSYC-7810 (Tutorial: Co-enroll in 6287 02)
PSYC-7810A (Psychology of Dreams)

Fall 2015 Sections

PSYC-1101 (Intro to General Psychology) Section: 01
PSYC-2010 (Psychology as a Human Science) Section: 01
PSYC-4085 (Mentorship In Intro to GenPsyc) Section: 03
PSYC-5085 (Mentorship in Intro to GenPsyc) Section: 05

Summer 2015 Sections

PSYC-2010 (Psychology as a Human Science) Section: 02
PSYC-4040 (Psychology of Dreams) Section: 01
PSYC-5040 (Psychology of Dreams) Section: 01

Spring 2015 Sections

PSYC-1101 (Intro to General Psychology) Section: 01
PSYC-4085 (Mentorship in Intro Gen Psyc) Section: 01
PSYC-5085 (Mentorship in Intro Gen Psyc) Section: 02
PSYC-6284 (Psychopathology and Health) Section: 01

Fall 2014 Sections

PSYC-2010 (Psychology as a Human Science) Section: 02
PSYC-6280 (Theory/Pract Clinical Assessm) Section: 01
PSYC-7810 (Theory&PractOfClinicalAssess) Section: 04

Summer 2014 Sections

PSYC-2010 (Psychology as a Human Science) Section: 01
PSYC-4040 (Psychology of Dreams) Section: 01
PSYC-5040 (Psychology of Dreams) Section: 01
PSYC-6899 (Thesis) Section: 02
PSYC-6899 (Thesis Writing) Section: 04
PSYC-7810A (Psychology of Dreams) Section: 01

Spring 2014 Sections

PSYC-1101 (Intro to General Psychology) Section: 02
PSYC-6220 (The Counsel & Psychoth Process) Section: 02
PSYC-6899 (Thesis) Section: 02
PSYC-7810 (Tutorial: Co-enroll in 6287 02) Section: 02