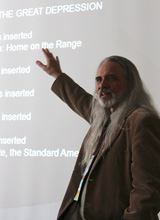 Paul Luken, Ph.D.
Chair and Associate Professor
Phone: 678-839-6333 | Fax: 678-839-6506
Email: pluken@westga.edu
Office: Pafford Social Science Building 209B
Hours: Fall 2012 TBA
Biography
Paul Luken is the Interim Chair for the sociology students and their faculty. He teaches undergraduate courses in medical sociology, death and dying, housing and homeless, urban sociology, and qualitative research. At the graduate level he teaches courses on institutional ethnography and qualitative research. After completing his doctoral studies in Sociology at The Ohio State University, he continued his studies as a postdoctoral fellow in "Mental Health and Aging" in the Department of Family and Community Medicine of the University of Missouri; and on two occasions he was selected by the Gerontological Society of America as a postdoctoral fellow in applied gerontology. His most recent publications have appeared in Social Problems, Social Forces, Sociological Inquiry, the Journal of Sociology and Social Welfare, and Sociological Quarterly. Currently he is preparing a book on changes in the social institution of housing in the US in the twentieth century from the standpoint of women. Aside from his membership in numerous professional organizations, he is particularly active in the Society for the Study of Social Problems and the International Sociological Association where he is Vice President of the Thematic Group on Institutional Ethnography and IE Newsletter editor. He is a long-time member of the American Civil Liberties Union and Amnesty International.
Courses and Sections
Courses Taught

SOCI-1101 (Introductory Sociology)
SOCI-3001 (Communicating Sociology)
SOCI-3804 (Death, Grief and Caring)
SOCI-4983 (Capstone: Senior Thesis)
SOCI-6660 (Institutional Ethnography)

Fall 2015 Sections

SOCI-3001 (Communicating Sociology) Section: E1W
SOCI-3001 (Communicating Sociology) Section: 01W
SOCI-4983 (Capstone: Senior Thesis) Section: 02

Summer 2015 Sections

SOCI-3001 (Communicating Sociology) Section: E1W

Spring 2015 Sections

SOCI-3001 (Communicating Sociology) Section: 01W

Fall 2014 Sections

SOCI-3804 (Death, Grief and Caring) Section: 01
SOCI-4983 (Capstone: Senior Thesis) Section: 02
SOCI-6660 (Institutional Ethnography) Section: 01

Spring 2014 Sections

SOCI-1101 (Introductory Sociology) Section: 04