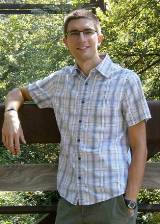 Benjamin Steere
Assistant Professor
Phone: 678-839-6456 | Fax: 678-839-6466
Email: bsteere@westga.edu
Office: Anthropology Building 3
Biography
I teach courses in anthropology and the archaeology of the Southeastern United States. My research is focused on understanding changes in social and political organization of Native American communities in the prehistoric and early historic Southeast at large and small scales. I am currently working on a collaborative archaeological research and preservation project with the Tribal Historic Preservation Office of the Eastern Band of Cherokee Indians. I began this work as a Postdoctoral Research Associate for the Coweeta LTER at the University of Georgia.

I earned my Ph.D. from the Department of Anthropology at the University of Georgia in 2011. My dissertation research examines how houses and households changed over time and across space in the native Southeast.

I have experience in academic, professional, and public archaeology. From 2004 to 2006 I worked as a field technician with TRC, Inc. on prehistoric and historic archaeology projects in western North Carolina. I have also been involved in regional archaeological survey in Coixtlahuaca, Oaxaca, Mexico. I edit The Profile, the online newsletter for the Society for Georgia Archaeology.
Education/Degrees
B.A., Wake Forest University, 2003
Ph.D., University of Georgia, 2011
Courses and Sections
Courses Taught

ANTH-1102 (Intro to Anthropology)
ANTH-4102 (Archaeological Field Research)
ANTH-4120 (Indians of the Southeastern US)
ANTH-4150 (Human Evolution)
ANTH-4181 (Cultural Resources Management)
ANTH-4184 (Anthropology Capstone)
ANTH-4205 (Cherokee Archaeology)
ANTH-4885 (Archaelogy of Architecture)
ANTH-5885 (IndiansOfTheSoutheasternUS)

Summer 2015 Sections

ANTH-1102 (Intro to Anthropology) Section: E01
ANTH-4205 (Cherokee Archaeology) Section: E01
ANTH-5885 (Cherokee Archaeology) Section: E01

Spring 2015 Sections

ANTH-1102 (Intro to Anthropology) Section: 02
ANTH-4181 (Cultural Resources Management) Section: 01

Fall 2014 Sections

ANTH-1102 (Intro to Anthropology) Section: 04
ANTH-4184 (Anthropology Capstone) Section: 01
ANTH-4885 (Archaelogy of Architecture) Section: 01

Summer 2014 Sections

ANTH-4102 (Archaeological Field Research) Section: 41
ANTH-4120 (Indians of the Southeastern US) Section: N01
ANTH-5885 (IndiansOfTheSoutheasternUS) Section: N01

Spring 2014 Sections

ANTH-1102 (Intro to Anthropology) Section: 04
ANTH-4150 (Human Evolution) Section: 01