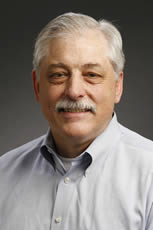 Mark Parrish, Ph.D.
Chair and Associate Professor
Phone: 678-839-6117 | Fax: 678-839-6099
Email: mparrish@westga.edu
Office: Education Annex 243
Biography
Dr. Mark S. Parrish is Assistant Professor of Counselor Education at the University of West Georgia in the Department of Clinical and Professional Studies of the College of Education. His clinical counseling experience spans the past 10 years and includes counseling academically at-risk students at Auburn University, and lead therapist at Tanner Behavioral Health Services in Carrollton, Georgia where he worked with children, adolescents and adults in the areas of general mental health, addictions/substance abuse and adolescents with inappropriate sexual behaviors. His scholarship interests include providing mental health services to diverse populations and integrating spirituality into the counseling process. He has served on a number of UWG committees in the Faculty Senate, the College of Education, the Department of Clinical and Professional Studies and is the Coordinator of the Counselor Education and College Student Affairs Programs, and is currently the Program Director for the SAMHSA funded PREVENT@UWG Campus Suicide Prevention Program and is a team member in developing a K-12 Emergency Preparedness Technical Training Center at UWG under a U.S. Department of Justice initiative. He has published research in national professional journals and has presented at local, state and international professional conferences on counseling diverse populations, the use of spirituality in the counseling process, forensic treatment of adolescents with inappropriate sexual behaviors, diagnosing relational aggression in college students, counseling individuals with substance dependency and addictions, and developing academic success strategies for at-risk college students. He is a licensed professional counselor (LPC-Georgia) and participates in a number of advocacy efforts related to promoting mental health and social justice.
Education/Degrees
B.B.A, Marketing Management, Armstrong State College, 1976
M.Ed., Community Counseling, University of West Georgia, 2002
Ed.S., Community Counseling, University of West Georgia, 2004
Ph.D., Counselor Education and Supervision, Auburn University, 2008
Courses and Sections
Courses Taught

CEPD-6182 (Internship: Prof Counseling)
CEPD-7155 (Substance Abuse Counseling)
CEPD-7181 (Spirituality in Counseling)
CEPD-9186 (Doctoral Internship)
CEPD-9199 (Dissertation)

Fall 2015 Sections

CEPD-7181 (Spirituality in Counseling) Section: E02

Summer 2015 Sections

CEPD-6182 (Internship: Prof Counseling) Section: 02
CEPD-7155 (Substance Abuse Counseling) Section: E02
CEPD-7155 (Substance Abuse Counseling) Section: E01
CEPD-9199 (Dissertation) Section: E03

Spring 2015 Sections

CEPD-7155 (Substance Abuse Counseling) Section: 01D
CEPD-9199 (Dissertation) Section: 03

Fall 2014 Sections

CEPD-6182 (Internship: Prof Counseling) Section: 01
CEPD-9199 (Dissertation) Section: 03

Summer 2014 Sections

CEPD-9199 (Dissertation) Section: 03

Spring 2014 Sections

CEPD-6182 (Internship: Prof Counseling) Section: 02
CEPD-9186 (Doctoral Internship) Section: N01
CEPD-9199 (Dissertation) Section: 03
Selected Publications
Parrish, M.S., Stanard, R.P., & Cobia, D.C. (2008). Using humanistic and existential counseling approaches in counseling adolescents with inappropriate sexual behaviors. Journal of Humanistic Counseling Education and Development, 47, 1. [View Publication]
Garrett, M.T., Garrett, J.T., Grayshield, L., Williams, C., Portman, T.A.A., Rivera, E.T., King, G., Ogletree,T., Parrish, M.S., & Kawulich, B. (2013). Culturally alert counseling with Native Americans. In G. McAuliffe (Ed.), Culturally alert counseling: A
Garrett, M. T., Portman, T. A. A., Williams, C. R., Grayshield, L., Torres Rivera, E., & Parrish, M.S. (2012). Native American adult lifespan perspectives: Where power moves. In E. Chang, & C. Downey (Eds.), Mental health across racial groups: Lifespan
Parrish, M.S., Klem, J., & Brown, D.R. (2012). Diversity in Learning: A comparison of traditional learning theories with learning styles and cultural values of Native American students. 2012 VISTAS, 1. Advance online publication. http://www.counseling.org/ [View Publication]
Brown, D. R., & Parrish, M.S. (2011). College student spirituality: Helping explore life's existential questions. Retrieved from http://counselingoutfitters.com/ vistas/vistas11/Article_13.pdf [View Publication]
Brown, D.R., Parrish, M.S., & Johnson, E.P. (2009) Assessment of spirituality and religiosity. In M. Mpofu & T. Oakland (Eds.), Assessment in rehabilitation and health. Needham Heights, MA: Allyn & Bacon.
Klem, J.L., Klem, T., Parrish, M.S., & Brown, D.R. (2009). Relational aggression: Alleviating gender bias in the diagnosis of Conduct Disorder. Internet Journal of Mental Health, 5, 2, 1-22, [View Publication]
Brown, D.R., Johnson, E.P., & Parrish, M.S. (2007). Spirituality assessments: Limitations and recommendations. 2007 VISTAS Online. Alexandria, VA: American Counseling Association. [View Publication]
Professional Interests
- Counseling Diverse Populations with a focus on Native American mental health clients - Spirituality in Counseling - Family systems impact on childhood development - Counseling adults and adolescents presenting with substance abuse and chemical dependency and comorbid diagnoses - Sociocultural learning and its application in the classroom - Advocacy for at-risk individuals of the local community - Advocacy for individuals impacted by Alabama immigration legislation
Personal Interests
- Development of culture and tool making in prehistoric humans - Photography and research of prehistoric rock art - Environmental responsibility - Outdoor activities