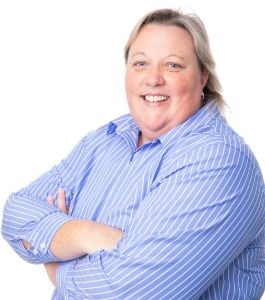 Bridgette Stewart, MEd
Senior Lecturer
Phone: 678-839-6192 | Fax: 678-839-6195
Email: bstewart@westga.edu
Office: Coliseum 2045
Biography
Bridgette Stewart joined the Department of Leadership & Instruction in the fall of 2003. Prior to joining the faculty at West Georgia, Ms. Stewart worked for four years as a teaching assistant at Georgia Highlands College and as the Computer Specialist for the National Youth Sports Program during the summer months. Ms. Stewart is an active member of Shape America, the Southern District of Shape America and the Georgia Association for Health, Physical Education, Recreation and Dance (GAHPERD). She is an active member of the board of directors for GAHPERD and serves as the President Elect. She also serves as the chair of the community health council as part of the health division of Southern District Shape America.

Ms. Stewart is currently certified as a Level II Teaching Professional with the United States Golf Teachers Federation, a BLS Instructor through the American Heart Association, a Certified Wellness Practitioner and a Worksite Wellness Specialist through the National Wellness Institute, a Certified Personal Trainer though the National Council on Strength and Fitness and a Fitness Nutrition Specialist through the American Council on Exercise. She recently completed training as a lifestyle coach for the CDC's National Diabetes Prevention Program. She is the faculty adviser for Shape Her, a newly formed student organization that focuses on the health and well-being of UWG's female student body.

In her spare time Ms. Stewart enjoys golfing, fitness walking, kayaking, and spending time with family and friends (and her puppy Duncan).
Education/Degrees
A.A., Psychology, Georgia Highlands College, 1996
B.S., Sports Medicine, Berry College, 1998
M.S., Physical Education, University of West Georgia, 2003
Selected Publications
Invited to be a presenter and facilitator at the 2010 national health symposium hosted by McGraw-Hill publishing company because of my experience in online instruction and use of iHealth, an online learning platform through McGraw-Hill. Only 14 instructor
Stewart, B.A. & Koch, J. (March 2012) The Circle of Wellness. Symposium to be conducted at the 2012 annual meeting of the American Alliance for Health, Physical Education, Recreation and Dance, Boston, Massachusetts.
Stewart, B.A. & Harvey, R. (March 2012) Rebuild and Relive: A Physical Activity Course to Change Lives. Symposium to be conducted at the 2012 annual meeting of the American Alliance for Health, Physical Education, Recreation and D
Stewart, B.A. (February 2012) Doing what matters: How to make a difference through effective mentoring. Invited presentation to be conducted at the 2012 annual meeting of the Southern District Alliance for Health, Physical Education, Recreatio
Stewart, B.A. & Harvey, R. (February 2012) Rebuild and Relive: A Physical Activity Course to Change Lives. Symposium to be conducted at the 2012 annual meeting of the Southern District Alliance for Health, Physical Education, Recreation and Dance, O
Stewart, B.A. & Harvey, R. (October 2011) Rebuild and Relive: A Physical Activity Course to Change Lives. Symposium to be conducted at the 2011 annual meeting of the Georgia Alliance for Health, Physical Education, Recreation and Dance, Atlanta, Geo
Hatfield, L., & Stewart, B. (September, 2011) Impressive First Impressions: Cover Letters, Resumes, and Interviewing Skills for Future Professionals. Invited presentation conducted at the annual Southern District Association for Health, Physical Educ
Johnson, J., Koch, J., Smith, M., & Stewart, B. (February, 2011) Using Technology to Enhance Skill Development: Dartfish Analysis Package. Symposium conducted at the annual Southern District Association for Health, Physical Educat
Koch, J., & Stewart, B.A. (February, 2011) Wellness: Keeping it Personal and Online. Symposium conducted at the annual Southern District Alliance for Health, Physical Education, Recreation, and Dance Convention in Greensboro, North Carolina.
Stewart, B. A. & Mowling, C. M. (November, 2008) Pitch it Up: Strategies for Improving Teaching of the Short Game in Golf. Presentation conducted at the meeting of the Georgia Alliance for Health, Physical Education, Recreation, and Dance, Savannah, Geo [View Publication]
Courses and Sections
Courses Taught

PWLA-1600 (Personal Wellness)
PWLA-1643 (First Aid and CPR)
PWLA-1647 (Golf: Beginning)
PWLA-1697 (Walk/Jog)
PWLA-2611 (Healthy Eating and Nutrition)

Summer 2015 Sections

PWLA-1600 (Personal Wellness) Section: E01
PWLA-2611 (Healthy Eating & Nutrition) Section: E01

Spring 2015 Sections

PWLA-1600 (Personal Wellness) Section: E03
PWLA-1600 (Personal Wellness) Section: E04
PWLA-1600 (Personal Wellness) Section: E05
PWLA-1643 (First Aid and CPR) Section: N01
PWLA-1647 (Golf: Beginning) Section: 01
PWLA-2611 (Healthy Eating and Nutrition) Section: E02
PWLA-2611 (BLS CPR-Healthcare Providers) Section: 01

Fall 2014 Sections

PWLA-1600 (Personal Wellness) Section: N01
PWLA-1600 (Personal Wellness) Section: N02
PWLA-1600 (Personal Wellness) Section: N03
PWLA-1600 (Personal Wellness) Section: N04
PWLA-1647 (Golf: Beginning) Section: 01
PWLA-1697 (Walk/Jog) Section: 01
PWLA-1697 (Walk/Jog) Section: 02

Summer 2014 Sections

PWLA-1600 (Personal Wellness) Section: N01
PWLA-2611 (Healthy Eating and Nutrition) Section: N01

Spring 2014 Sections

PWLA-1600 (Personal Wellness) Section: N01
PWLA-1600 (Personal Wellness) Section: N02
PWLA-1600 (Personal Wellness) Section: N03
PWLA-1600 (Personal Wellness) Section: N04
PWLA-1643 (First Aid and CPR) Section: N02
PWLA-1647 (Golf: Beginning) Section: 01
PWLA-1697 (Walk/Jog) Section: 01