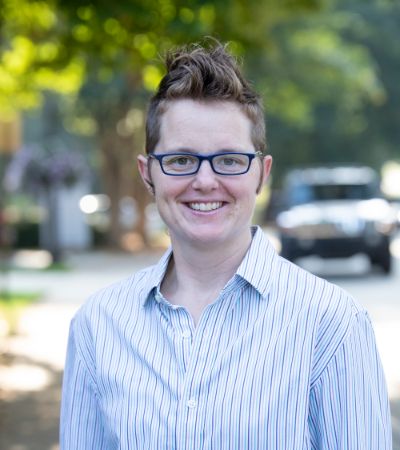 Betsy Dahms
Spanish Faculty
Phone: 678-839-5967 | Fax: 678-839-5931
Email: edahms@westga.edu
Office: Cobb Hall 104
Biography
Betsy Dahms obtained a B.A. in Spanish from Centre College and a M.A. and Ph.D in Hispanic Studies with a certificate in Gender and Women's Studies from the University of Kentucky. Dahms teaches Latin American and U.S. Latino Literatures in addition to Spanish language courses.

Dahms' publications include "Es mucho hombre esta mujer: Una lectura Queer de Teresa en Sab" published in Retomando la palabra: las pioneras del diecinueve en diálogo con la crítica contemporánea (Iberoamericana), "Shamanic Urgency and Two-Way Movement as Writing Style in the Works of Gloria Anzaldúa" (Letras Femeninas), "Compulsory Heterosexuality in Gloria Anzaldúa's 'El Paisano is a bird of good omen.'" (El Mundo Zurdo 3), and most recently "Queering Citizenship: UndocuQueer and Immigration Reform" (Diálogo: An Interdisciplinary Studies Journal Published by the Center for Latino Research at DePaul University).

Dahms is currently co-editing an anthology entitled Queer Perspectives in Anzaldúa: Post/Borderlands.
Courses and Sections
Courses Taught

FORL-4501 (Found of Language Development)
SPAN-1001 (Elementary Spanish I)
SPAN-1001C (Elementary Spanish I - Block)
SPAN-1002C (Elementary Spanish II - Block)
SPAN-2001 (Intermediate Spanish I)
SPAN-2002 (Intermediate Spanish II)
SPAN-3030 (Intro to Hispanic Literature)
SPAN-3101 (Spanish Conversation)
SPAN-3102 (Spanish Composition)
SPAN-4013 (Latin- Amer Culture & Civiliz)
SPAN-4484 (Senior Capstone)
SPAN-4785 (Special Topics in Spanish)
UWG-1101 (First Year Univ. Experience)

Summer 2016 Sections

SPAN-2001 (Intermediate Spanish I) Section: 02
FORL-4501 (Found of Language Development) Section: E01

Spring 2016 Sections

SPAN-1001C (Elementary Spanish I - Block) Section: 01
SPAN-1002C (Elementary Spanish II - Block) Section: 01
SPAN-3102 (Spanish Composition) Section: 01W

Fall 2015 Sections

UWG-1101 (First Year Univ. Experience) Section: 10
SPAN-2001 (Intermediate Spanish I) Section: 03
SPAN-3030 (Intro to Hispanic Literature) Section: 01
SPAN-3030 (Intro to Hispanic Literature) Section: 02
SPAN-4484 (Senior Capstone) Section: 01

Summer 2015 Sections

SPAN-2001 (Intermediate Spanish I) Section: 01S
SPAN-2002 (Intermediate Spanish II) Section: 01S
SPAN-2002 (Intermediate Spanish II) Section: 02
SPAN-3101 (Spanish Conversation) Section: 01S
SPAN-3102 (Spanish Composition) Section: 01S
SPAN-4785 (Special Topics in Spanish) Section: 01S

Spring 2015 Sections

SPAN-1001 (Elementary Spanish I) Section: 05
SPAN-1001 (Elementary Spanish I) Section: 06
SPAN-4013 (Latin- Amer Culture & Civiliz) Section: 01
SPAN-4484 (Senior Capstone) Section: 01