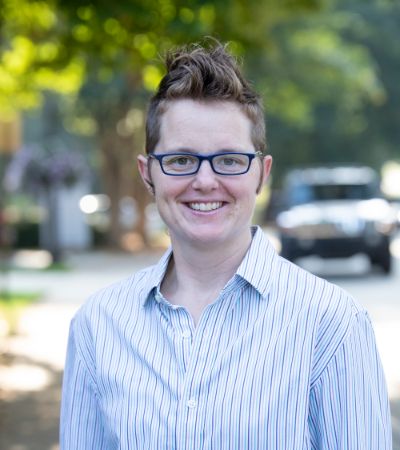 Betsy Dahms
Spanish Faculty
Phone: 678-839-5967 | Fax: 678-839-5931
Email: edahms@westga.edu
Office: Cobb Hall 104
Biography
Betsy Dahms obtained her B.A. in Spanish from Centre College and her M.A. and Ph.D in Hispanic Studies with a certificate in Gender and Women�s Studies from the University of Kentucky. Dahms teaches Latin American and U.S. Latino Literatures in addition to Spanish language courses.

Her publications include �Es mucho hombre esta mujer: Una lectura Queer de Teresa en Sab� published in Retomando la palabra: las pioneras del diecinueve en di�logo con la cr�tica contempor�nea (September 2012 Iberoamericana), "Pussy for Life: Adherence and Deviance from the Dominican Masculine Code in Junot D�az's Drown" (MIFLC Review) and most recently "Shamanic Urgency and Two-Way Movement as Writing Style in the Works of Gloria Anzald�a" in Letras Femeninas.

She is currently co-editing an anthology entitled Queer Perspectives in Anzald�a: Post/Borderlands.
Courses and Sections
Courses Taught

SPAN-1001 (Elementary Spanish I)
SPAN-1002 (Elementary Spanish II)
SPAN-2001 (Intermediate Spanish I)
SPAN-2002 (Intermediate Spanish II)
SPAN-3030 (Intro to Hispanic Literature)
SPAN-3101 (Spanish Conversation)
SPAN-3102 (Spanish Composition)
SPAN-4013 (Latin- Amer Culture & Civiliz)
SPAN-4484 (Senior Capstone)
SPAN-4785 (One Hundred Years of Solitude)
UWG-1101 (First Year Univ. Experience)
XIDS-2100 (Intro to Gender & Sexuality)

Fall 2015 Sections

UWG-1101 (First Year Univ. Experience) Section: 10
SPAN-2001 (Intermediate Spanish I) Section: 03
SPAN-3030 (Intro to Hispanic Literature) Section: 01
SPAN-3030 (Intro to Hispanic Literature) Section: 02
SPAN-4484 (Senior Capstone) Section: 01

Summer 2015 Sections

SPAN-2001 (Intermediate Spanish I) Section: 01S
SPAN-2002 (Intermediate Spanish II) Section: 01S
SPAN-2002 (Intermediate Spanish II) Section: 02
SPAN-3101 (Spanish Conversation) Section: 01S
SPAN-3102 (Spanish Composition) Section: 01S
SPAN-4785 (Special Topics in Spanish) Section: 01S

Spring 2015 Sections

SPAN-1001 (Elementary Spanish I) Section: 05
SPAN-1001 (Elementary Spanish I) Section: 06
SPAN-4013 (Latin- Amer Culture & Civiliz) Section: 01
SPAN-4484 (Senior Capstone) Section: 01

Fall 2014 Sections

SPAN-1002 (Elementary Spanish II) Section: 01
UWG-1101 (First Year Univ. Experience) Section: 29
SPAN-3102 (Spanish Composition) Section: 01W
SPAN-3102 (Spanish Composition) Section: 02W

Summer 2014 Sections

SPAN-2001 (Intermediate Spanish I) Section: 01S
SPAN-2002 (Intermediate Spanish II) Section: 01
SPAN-3101 (Spanish Conversation) Section: 01S
SPAN-4785 (One Hundred Years of Solitude) Section: 01S

Spring 2014 Sections

SPAN-1002 (Elementary Spanish II) Section: 05
SPAN-1002 (Elementary Spanish II) Section: 07
XIDS-2100 (Intro to Gender & Sexuality) Section: 01