Masters Program Details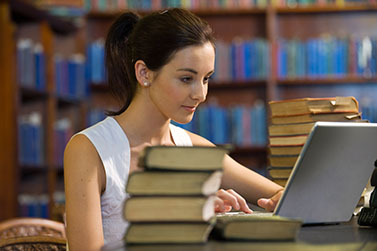 Accounting permeates the fabric of modern society. It is the discipline that provides financial information that is necessary for anagement control, evaluation of business enterprises, governmental units, and not-for-profit institutions. Accounting provides the measures of economic activity for our society and for our individual lives. It is the language used to communicate financial information and measure business risk.
An effective accountant must understand tax laws, securities regulations and accounting and auditing standards. Additionally, an effective accountant must understand how to motivate employees, design efficient systems to achieve shareholders' goals, prevent manipulation of such plans, and how to communicate those plans to the firm and to outsiders. Futhermore, an accounting professional must be able to explain confusing data to those with less familiarity with financial complexities and determine the level of risk in business processes.
Graduate professional education is not just training, skill development, or preparation to pass a licensing exam. It is far more than all of these combined. While focusing on the integration of technical expertise and ethical judgment, a graduate education in accounting must develop the student's analytical skills, which will be tested by difficult and often unanticipated economic arrangements. This education must also develop the written and oral skills proficient communication demands. A printable program sheet is also available for download.
Program Description
The MPAcc program provides students with a high quality education which prepares them for careers in corporate accounting, public accounting and for entrance into doctoral programs in business and accounting. MPAcc students not only gain technical accounting proficiency, they also prepare to enter the fast-paced business world. Ethics and technology as well as oral and written skills are incorporated into every aspect of the curriculum.
Completetion of the MPAcc program satisfies the requirements needed to take the Certified Public Accountant (CPA) examination in the state of Georgia. Combined with an undergradue degree, the MPAcc also satisfies the educational requirements of 150 total semester hours and 30 hours of upper-level courses needed to obtain certification. Courses completed during the program give students the confidence and technical knowledge needed to successfully complete the outside work experience requirements.
Method of Delivery
Required courses are 100% face-to-face.
Three of the four electives are offered online.
Accreditation
The University of West Georgia is accredited by the Southern Association of Colleges and Schools Commission on Colleges (SACCSCOC).
This program accredited by AACSB.
Credit & Transfer
Total semester hours required to earn a degree: 30
Maximum Hours Transferable into program: 6
Tuition & Fees
For the most up-to-date and accurate cost information see the Bursar's Office.
Coursework
The study of accounting requires a serious commitment, and students are expected to be dedicated to becoming accounting professionals. Discipline and integrity are essential ingredients for success.
Please refer to the program checklist for a complete summary all course requirements including core curriclum, Electives, required and elective major courses. More infomation about this is availabe here in the Course Catalogs.
General:
Choose either ECON 2105 or ECON 2106
Description: A study of the underlying theory and application of financial accounting concepts. Requires overall GPA of 2.0.
Description: A study of underlying theory and application of managerial accounting concepts. Requires overall GPA of 2.0.
Description: An in-depth study of the accounting and reporting processes and accounting theory together with current problems in reporting financial position and determining income. Includes study of valuation problems involving current assets; and property, plant, and equipment. AICPA Level I test fee is required.
Description: A continuation of ACCT 3212 with emphasis on the measurement and reporting of intangibles, liabilities, corporate capital, investments, and cash flows.
Description: Cost Accounting principles and techniques applied to job order and process types of industry, planning, and control of the elements of production costs, and preparation of cost reports. Includes an introduction to standard costing concepts and variance analysis. Use of cost information for business policy implementation and cost topics.
Description: A study of the Internal Revenue Code as it relates to individuals. Updated each offering to incorporate new tax laws, regulations, and rulings in print.
Description: A specialized in-depth accounting course which addresses documentation of accounting systems, including flowcharts; evaluation of internal control and the audit trail; impact of computers on internal control; and design of accounting systems.
Description: The course is designed to give the student an understanding of auditing objectives and standards, and a working knowledge of auditing procedures and techniques. Standards, ethics, and legal responsibilities of the public accounting profession, as well as preparation of audit reports are emphasized.
Description: A study of the economy as a whole including production, economic fluctuations, inflation, unemployment, public policy, and international economics. Requires overall GPA of 2.0.
Description: A study of the individual elements of an economy, including demand, supply, price, firms, production, costs, profits, market structures, income determination and international trade. Requires overall GPA of 2.0.
Description: Course emphasis is on applications of statistics in business . Topics include methods of presenting data, numerical measures and correlation, probability theory and probability distributions, sampling distributions, estimation, and hypothesis testing.
Description: Financial functions in the modern corporation with emphasis on its managerial aspects.
Major Required:
Description: In-depth analysis of and research on current topics in accounting; theoretical analysis of recent accounting pronouncements and the study of current literature in accounting. Ethical issues in financial reporting are emphasized.
Description: Designed for the student with past exposure to cost accounting concepts/applications. The course emphasizes research of the current topics affecting the information providing function of the managerial accounting process. Ethical issues are emphasized.
Description: A study of the identification and modeling of buisness processes and analysis and design of accounting information systems for business processes.
Description: An examination of the federal tax treatment of fiduciaries, gifts, estates, corporations and partnerships. Emphasis is placed upon the formation of the entity, elements of gross income, treatment of property dispositions, allowable deductions and credits, determination of entity and investor basis, and liquidation of the entity. Tax research is emphasized.
Description: Advanced problems and research in the application of auditing standards; internal control evaluations; applications of statistics; audits of EDP systems; auditors' ethical, legal and reporting obligations.
Description: Principles and practices of fund accounting are examined with emphasis upon their adaptation to nonprofit institutions. The course includes measuring efficiency and economic use of resources to satisfy legal reporting as well as societal requirements. Auditing the reports and operations of nonprofit organizations is emphasized.
Description: Topics may include foreign exchange market; exchange rates; balance of payments analysis and adjustment process; financing institutions, monetary relations, and monetary reform; gold, the dollar, devaluation, and SDRs. Same as FINC 6521.
Description: A study of the major financial tools and techniques through problem solving and case studies.
Major Selects:
Choose 2 of the 4
Description: This course is an integrative approach to the study of strategic business communication found in corporations, organizations, and small businesses today. There is a strong focus on developing credibility and the art of persuasion which allows students to approach the development of effective business messages from a strategic and reflective standpoint. Students analyze case studies that allow for critical thinking and problem solving in business communication including team building, conflict resolution, public relations, marketing, management, and leadership. The development of business plans through team building and exhibiting leadership skills frame the content of this course providing an active and enriched learning experience.
Description: The study of contemporary management control tools and business strategy.
Description: An examination of the tripartite or triple bottom line reporting framework that highlights the economic, environmental, and social performance of an organization. Emphasis is placed on how sustainability creates shareholder value and on how sustainable performance helps investors, creditors, and other users distinguish between companies operating efficiently and those which are not.
Description: Focuses on information technology and systems from a general management perspective. Discusses management of the systems development process, the organizational cycle of information, technology, planning, evaluation, selection, and strategic uses of information technology. Includes frequent discussions of industry case studies.
Faculty
This describes the general information about faculty for this program.
Guidelines for Admittance
Applicants should review the Graduate Studies Website Graduate Studies Application Process for individual program specific requirements and tasks that must be completed prior to admission.
International applicants are subject to additional requirements and application deadlines. See Procedures for International Students.
Program-specific Admittance Guidelines
Official Transcript
GMAT Score: 450 or above
Current Resume
Application Deadlines
General admissions deadlines are typically:
Fall - July 15
Spring - November 15
Summer - May 15
Contact
Dr. Hope Udombon
Administrative Director of WebMBA & Graduate Academic Advisor
Phone: 678-839-5355
Email: hudombon@westga.edu
Dates
Specific dates for Financial Aid, Fee Payments, Registration, Start/End of Term, Final Exams, etc. are available in THE SCOOP.
Learning Objectives
LG1 Communicate at a professional level in oral presentations and in writing.
LO1.1 Students will be able to conduct research relevant to accounting issues and problems.
LO1.2 Students will be able to create effective written documents.
LO1.3 Students will be able to prepare and deliver effective oral accounting presentations.
LG2 Identify how globalization affects organizations and their environment.
LO2.1 Students will be able to identify the impact of international accounting standards on the accounting profession.
LG3 Recognize the importance of ethical decision making.
LO3.1 Students will be able to identify ethical theories and concepts and their importance.
LO3.2 Students will be able to evaluate situations from various ethical frameworks.
LG4 Understand the major forms of accounting and be able to apply these principles and practices in a professional
responsible manner to accounting and business processes and systems.
LO4.1 Students will be able to identify tax planning issues involving like-kind exchanges.
LO4.2 Students will be able to differentiate between for-profit, non-profit, and governmental accounting and auditing
rules and regulations.
LO4.3 Students will have an understanding of strategic management accounting tools.
LO4.4 Students will be able to recognize fraudulent financial reporting.
LO4.5 Students will be able to develop entity relationship diagrams and understand modeling of business processess.
LO4.6 Students will be able to identify standard setting policies and procedures and develop implications for the
accounting profession.