Specialist Program Details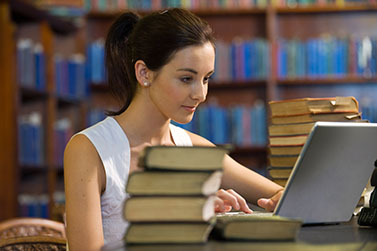 The purpose of the Ed.S. program in School Library Media is to provide superior student-focused education that is personally relevant and intellectually challenging. The program is committed to the following areas of excellence:
Preparing progressive, innovative, academically grounded school library specialists;
Enabling school library media specialists to successfully develop, administer, and evaluate effective school library media programs;
Building and enhancing skills in research and program evaluation to support instructional growth and improvement;
Pioneering innovative delivery options to maximize educational experiences;
Collaborating with all stakeholders to enhance student achievement;
Cultivating diversity of ideas, values, and persons responsive to changing needs and technologies; and
Promoting the advancement of learning through scholarship and service.
Program Description
The program consists of 27 hours of graduate coursework. Students must be eligible for S-5 certification in School Library Media for program admission. Specific course requirements are determined through consultation with academic advisors.
Students may begin the program any semester. Any changes in the projected sequence need to be determined jointly between student and advisor in order for the student to be able to complete the program in a timely manner.
Required orientation materials are available online.
Contacts
Dr. O.P. Cooper, Assistant Professor and Program Coordinator, ocooper@westga.edu, 678-839-6108 or Vicki Griffin, Pre-enrollment Contact, vgriffin@westga.edu, 678-839-5259
Method of Delivery
Coursework is available 100% online.
Accreditation
The University of West Georgia is accredited by the Southern Association of Colleges and Schools Commission on Colleges (SACCSCOC).
This program accredited by NCATE.
Credit & Transfer
Total semester hours required to earn a degree: 27
Maximum Hours Transferable into program: 6
Tuition & Fees
The Value of Online Learning:

Save money.
Online courses and programs can mean a huge cost-savings in many ways. No more high gas charges. No childcare needed. The flexibility can allow one to maintain a job while attending school. Out-of-state students are not charged non-resident tuition rates.
Earn more.
The completion of an accredited online degree also increases your earning potential.
The bottom line - value.
Our online courses are as affordable as you will find among accredited schools.
Fall 2015 to Summer 2016 Tuition, Fees, and Charges (pdf)
For the most up-to-date and accurate cost information, see the Bursar's Office website at http://www.westga.edu/bursar/. (Fully online courses appear as NET charges on the bottom of the Bursar's spreadsheets.)
Financial Information and Assistance
For the most up-to-date and accurate cost information, see the Bursar's Office. (Fully online courses appear as NET charges on the bottom of the Bursar's spreadsheets.)
There are a variety of financial assistance options for graduate students, including scholarships and fellowships. Visit the links below for more information.
Office of Financial Aid
College of Education Scholarships Information
Financial Information for Veterans and Families
TK20 - Electronic Portfolio Assessment System
Students in the College of Education are required to purchase a subscription to an electronic portfolio assessment system called TK20. For more information about TK20, visit the COE About TK20 Page. (Note: do not buy a subscription to TK20 until you are enrolled in your program and instructed to do so.)
Coursework
The program consists of 18 hours of required and 9 hours of elective coursework in media and instructional technology. Students entering with an S-5 certification in school library media will exit with an S-6 certification in school library media.
All required courses for the Ed.S. in School Library Media will be offered over the next year.
Admissions Process Checklist: program checklist. Always consult with an advisor before selecting courses.
Specific course requirements are determined through consultation with academic advisor.
General:
Description: This graduate course is a study of human growth and development from birth through aging and death. The course focuses on areas of physical, cognitive, social, personality, and emotional development as a series of progressive changes resulting from the biological being's interactions with the environment. Special emphasis is placed on the development characteristics of school age youth within a multicultural and diverse society.
Description: The course provides an overview of systematic approaches to instructional planning, development, and evaluation.
Description: A study of various internet tools, resources, and issues as related to K-12 education. Strategies for integrating internet into the curriculum will be included.
Description: An overview of current digital resources (tools, applications, etc.) to support the teaching and learning of children and young adults in diverse classrooms. Non-fiction and digital resources are included. Students will design, develop, and produce digital resources appropriate to their situation.
Description: An exploration of the principles of photography including the elements of light, subject, camera, and composition. Instructional applications of digital photography in the workplace and instructional settings, shooting high-quality digital photographs, and how to enhance digital photographs are covered.
Description: Intermediate level course on design, development and formative evaluation of web-based instructional systems. Web page design strategies based on research on effective practice are emphasized. Students use software development tools to create and evaluate interactive lessons including strategies for assessing learning achievement.
Description: This is a survey course focused on basic elements and technical aspects of multimedia design and development to support teaching and learning in diverse classrooms. Included are selection of hardware and software, design principles, hands-on production, classroom applications, and discussion of issues and useful digital and web-based resources.
Description: A study of the supervision of the school library media program from the district perspective. A field based experience is included.
Description: An advanced course in the design and production of digital media and instructional materials. Classroom utilization of digital media will be included.
Description: Enrollment requires completion of MEDT 6401 or instructor¿s permission. The design and development of data networks for instructional settings will be covered. In addition to current trends and issues, students will also explore how to use data networks for a variety of instructional contexts and how to perform basic network trouble shooting and repair.
Description: This course is a general introduction to conceptual, theoretical, and practical ideas concerning distance education, including the current status of distance learning and its impact on education. Students will become conversant in the terminology of the field of distance education, review its history, conduct research on specific areas of practice, investigate instructional and learning design strategies, explore the technologies commonly used, and understand the unique roles and responsibilities of the distance learner and the distance instructor.
Description: This course focuses on current issues and challenges for the distance education professional. Students will be prepared to assume the role of an e-learning teacher and professional through the study of distance education research as well as the analysis, design, development, implementation, and evaluation of e-learning environments. Students will examine the management of e-learning initiatives including cultural impact; budget, technological and managerial requirements; quality support; policy issues; development of e-learning materials; facilitating instruction and interaction; and other areas of professional development and training.
Description: Individually designed studies of topics in media or instructional technology focused on the student's areas of specialty.
Description: This course will study effective communication skills, group dynamics, time management, and facilities planning with special emphasis on applying these skills to facilitate the integration of newer technologies into school library media centers and classrooms.
Description: Current issues and trends in school library media services and programs will be examined. The basic vision of the school library media program comprised of collaboration, leadership and technology will be emphasized.
Description: This course is designed to prepare students to effectively and efficiently participate in program evaluation at the school sites Students are expected to evaluate efficacy of existing programs and/or the appropriateness of programs being considered for implementation.
Description: This course provides an overview of research on media and instructional technology. Because the course addresses both theoretical and practical dimensions of research on media and instructional technology, students will study exemplary research studies through printed and digital materials.
Faculty
This describes the general information about faculty for this program.
Guidelines for Admittance
All graduate applicants must complete the online Grad Application. A one-time application fee of $40 is required.
Applicants should also review the Graduate Studies Website for individual program specific requirements and tasks that must be completed prior to admission. See Graduate Studies Application Process.
International applicants are subject to additional requirements and application deadlines. See Procedures for International Students.
Official transcripts all institutions attended are required and should be sent directly to the UWG Admissions Office.
Program-specific Admittance Guidelines
Eligibility for certification in School Library Media
GPA of 3.0 or higher in most recent degree
Application Deadlines
Fall - July 21
Spring - Nov 15
Summer - April 15
Contact
College of Education Office of Graduate Studies Phone: 678-839-5430 or Fax: 678-839-6174
Email: cberry@westga.edu
The Department of Educational Technology and Foundations website includes a program handbook, directory of instructors and their credentials, as well as other vital information.
Dr. O.P. Cooper, Assistant Professor and Program Coordinator, ocooper@westga.edu 678-839-6108 or Vicki Griffin, Pre-enrollment Contact, vgriffin@westga.edu, 678-839-5259
Learning Objectives
Candidates demonstrate content, pedagogical, and professional knowledge and skills.
Candidates develop, implement, and evaluate learning opportunities for all students.
Candidates demonstrate professional dispositions and ethics.
Candidates demonstrate ability to serve needs of diverse populations including special needs.