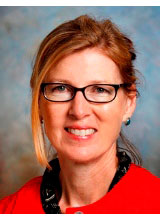 Suzanne K. Durham, MLS, CA
Head of Special Collections
Phone: 678-839-5350 | Fax: 678-839-6511
Email: sdurham@westga.edu
Office: Ingram Library Gr. Fl.
Biography
I'm in my sixth year as university archivist and head of Special Collections at UWG, another transplanted Yankee by way of North Carolina-Virginia-Kentucky, you'all. Maybe you've seen my book Carrollton Then and Now? My latest one - Around Carrollton - came out in 2012. I try to promote the UWG Special Collections to the university community, Carrollton citizens, and the world wide web. Let me know if it's working. Current Nook read: Quiet, an interesting discourse on the introverted personality.
Philosophy
Preserving history is all about the future. As archivists, we design and maintain preservation systems based on our projections of how future generations will use the historic record. This best guess drives the choices we make regarding intellectual and physical preservation of historic materials. Our job then is to recreate our grandparents' lives while thinking like our grandchildren.