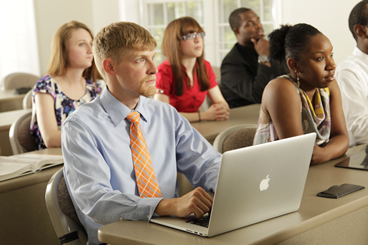 The B.B.A. program in Management Information Systems provides students with a high-quality liberal arts based educational foundation so they can secure entry-level junior/staff positions in local, regional, or national organizations or continue studies at the master's level. More information is available on-line using the tabs below. A printable [program_brochure] is also available for download.
Program Description
The department has supported numerous initiatives for the Management Information Systems degree. We have recently established partnerships with SAP and Greenway to bring industry's top Enterprise Systems into the classroom for hands-on use and development. Our MIS lab houses networking equipment used for the Telecommnications Management courses as well as state-of-the-art Linux server for the Information Systems Projects course. Our curriculum offers courses designed to prepare students for SQL, Enterprise, CompTIA A+, Network+. amd Security+ certifications. More information is available on-line using the tabs above. A printable [program_brochure] is also available for download.
Method of Delivery
Partially Online
Accreditation
The University of West Georgia is accredited by the Southern Association of Colleges and Schools Commission on Colleges (SACSCOC).
The Richards College of Business is accredited by the Association to Advance Collegiate Schools of Business - International (AACSB-I). The accounting program is one of only five institutions in the state of Georgia to have accounting accreditation from the AACSB.
This program accredited by AACSB.
Credit & Transfer
Total semester hours required to earn a degree: 120
Maximum Hours Transferable into program:
Tuition & Fees
Coursework
Major Courses:
CISM 2335
CISM 3340
CISM 3350
CISM 4310
CISM 4330
CISM 4350 or CISM 4355
CISM 4390
MGNT 4660
More information about this is available here in the Course Catalogs.
Major Required:
Description: This course introduces students to basic programming and web page design. Specific emphasis will be placed on introducing students to web development applications, content management systems, and programming languages.
Description: Application of development tools and languages (e.g., DBMS, Visual Basic, etc.) for business problem solving in a database environment.
Description: This course introduces students to basic research concepts. Additionally, students demonstrate their ability to recognize and understand emerging MIS-related technology.
Description: Develop knowledge for business systems analysis and design processes including familiarization with tools and techniques of SA/D and development of problem solving skills.
Description: An introduction to the theoretical and practical issues related to Enterprise Architecture (EA). EA is the organizing structure for business processes and IT infrastructure. Top performing organizations know how to design their business processes and IT infrastructure for success of their current operations, and the most successful companies know how to expand their EA to enable innovation and to seize a competitive advantage for the future. This course will introduce students to EA concepts and will equip students with design thinking tools and knowledge needed to extend an organization's EA. Specific emphasis will be placed on using SAP enterprise systems design tools. Same as MGNT 4330.
Description: An introduction to the theoretical and practical issues related to enterprise and decision support systems. Will introduce students to the technologies involved in these systems and will examine the need to share, communicate, and manage organizational information for integration and decision making. Specific emphasis will be placed on using enterprise systems such as Greenway's PrimeSuite or SAP's enterprise system. Same as MGNT 4350.
Description: Students are expected to have a working knowledge of the current Windows operating systems platform, and the current Windows document and presentation software available during the term of the course within the College student labs. All students are required to have a UWG email account and access to a web browser for WebCT access. Students will be required to participate within an assigned student group. This course will teach students the fundamental steps and procedures to transform a traditional brick and mortar organization into a digital on-line business. Traditional business planning methodologies are examined and modified for web- based applications. Specifically, the topics of Transaction Processing Systems, Customer Relationship Management (CRM), Supply Chain Management (SCM), order fulfillment, and product logistics are covered during the course.
Description: This course introduces students to the fundamental concepts of business intelligence and several data mining software tools that enable organizations to strive for business intelligence.
Description: An integrative approach to the study of the total enterprise from the executive management's point of view--the environment in which it operates, the direction management intends to head, management's strategic plan and the task of implementing and executing the chosen strategy. Must be taken no earlier than one semester before graduation and provided completion of Core Area F business courses and MGNT 3600, MKTG 3803, FINC 3511 and ECON 3402. Must have senior standing.
Faculty
This describes the general information about faculty for this program.
Admission Process Checklist
Dates
Specific dates for Admissions (Undergraduate only), Financial Aid, Fee Payments, Registration, Start/End of term, Final Exams, etc. are available in THE SCOOP.
Learning Objectives
MIS 1: MIS majors will demonstrate a more comprehensive knowledge of MIS concepts and principles as compared to non-mis BBA majors as a whole.

MIS 2: MIS majors will be able to develop a working, dynamic website.

MIS 3: MIS majors will be able to design a relational database that is at least in Third Nominal Form (3NF).

MIS 4: MIS majors will utilize data flow diagrams to accurately depict the movement of data within systems.