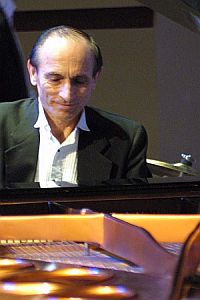 Daniel F. Bakos, Ph.D.
Professor of Music, Director of Jazz Studies, Music Theory
Phone: 678-839-6269 | Fax: 678-839-6259
Email: dbakos@westga.edu
Office: Humanities Building 334
Biography
Dr. Daniel Bakos received degrees in piano performance from the College-Conservatory of Music of the University of Cincinnati and a Ph.D. in Music Theory from the Ohio State University. He taught at Black Hills State, The Ohio State University and is currently Professor of Music at the University of West Georgia, where he teaches music theory and is director of jazz studies. Dr. Bakos has over 100 compositions to his credit. His jazz sextet, the RazzaMaJazz Quintet, recorded and released a CD in 1995. The national Weather Channel Local On The 8's segment featured several of his compositions on that recording including Don't Forget Me!. At the University of West Georgia he started the Jazz Ensemble and The Annual Sunbelt Jazz Festival that is in the 23rd consecutive year. Some of the jazz musicians who have performed with the UWG Jazz Ensemble at the festival include Chris Vadala, Bobby Shew, Steve Weist, Lew Soloff, Rob McConnell, Vincent DiMartino, and others. Dr. Bakos has two sons and currently lives in Carrollton, Georgia.
Education/Degrees
PhD, Music Theory, Ohio State University,
M.M., Piano Performance, University of Cincinnati,
B.M., Piano Performance, University of Cincinnati,
Courses and Sections
Courses Taught

MUSC-1301 (Music Theory I)
MUSC-1302 (Music Theory II)
MUSC-2301 (Music Theory III)
MUSC-2730 (Jazz Ensemble)
MUSC-2800O (Small Ensemble: Jazz Combo)
MUSC-4311 (Appl Jazz Comp and Arranging)
MUSC-4321 (Applied Jazz Improvisation)
MUSC-4730 (Jazz Ensemble)
MUSC-4800O (Small Ensemble: Jazz Combo)
MUSC-4943 (Jazz Recital)
MUSC-5730 (Jazz Ensemble)
MUSC-5800O (Small Ensemble:Jazz Combo)
MUSC-6220 (Music Theory)

Spring 2016 Sections

Fall 2015 Sections

MUSC-1301 (Music Theory I) Section: 01 [View Syllabus]
MUSC-2301 (Music Theory III) Section: 01 [View Syllabus]
MUSC-2730 (Jazz Ensemble) Section: 01
MUSC-4311 (Appl Jazz Comp and Arranging) Section: 01
MUSC-4321 (Applied Jazz Improvisation) Section: 01
MUSC-4730 (Jazz Ensemble) Section: 01
MUSC-5730 (Jazz Ensemble) Section: 01

Spring 2015 Sections

MUSC-1302 (Music Theory II) Section: 01
MUSC-2730 (Jazz Ensemble) Section: 01
MUSC-4311 (Appl Jazz Comp and Arranging) Section: 01
MUSC-4321 (Applied Jazz Improvisation) Section: 01
MUSC-4730 (Jazz Ensemble) Section: 01
MUSC-5730 (Jazz Ensemble) Section: 01