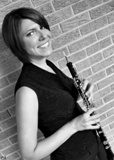 Janice Crews, D.M.A
Instructor of Oboe
Phone: 678-839-6272 | Fax: 678-839-6259
Email: drjanicecrews@gmail.com
Office: Humanities Building
Biography
Janice Crews is an oboist, music educator, and conductor from Athens, Georgia. As a freelance oboist, Crews has performed with the Rome Symphony, Augusta Symphony, Louisiana Sinfonietta, Baton Rouge Symphony Orchestra, Gulf Coast Symphony, Rapides Symphony, Acadiana Symphony, and the Louisiana Philharmonic Orchestra. In 2005, Crews played oboe and English horn with Orquesta Sinfónica de la Universidad Autónoma de Nuevo León in Monterrey, Mexico, including the farewell concert series of the Three Tenors for an audience of 45,000. She has also taught masterclasses and played guest artist recitals throughout the Southeastern U.S.



As a solo oboist, Crews has performed as a winner of the UGA Concerto Competition in 2005, with the Rome Symphony in 2006, and with the Louisiana Sinfonietta in 2008. She also performed at the 2006 International Double Reed Society conference with the Georgia Double Reed Ensemble. Crews will perform the Bach Double Concerto for Oboe and Violin with the Louisiana Sinfonietta in 2012.



An active music educator, Crews has extensive teaching experience as a successful private studio instructor and has taught music at the elementary, middle, high school, and college levels. She is also highly involved in community outreach, having performed educational concerts for thousands of children in the Southeast. She currently serves on the faculty of the University of West Georgia and is a Professional Learning Music Teaching Artist with the Atlanta Symphony Orchestra.



Crews holds degrees from The University of Georgia (BME, MM) and Louisiana State University (DMA) where she studied with Dwight Manning and James Ryon, respectively. She currently resides in Roswell, Georgia.