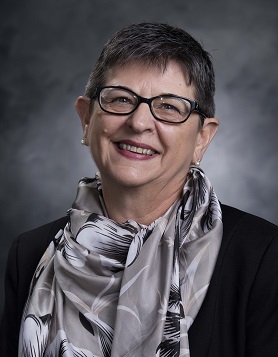 Vicki Hardin
Associate Director - Employer Relations
Phone: 678-839-6431 | Fax: 678-839-6432
Email: vhardin@westga.edu
Office: Row Hall
Biography
With twenty five years of teaching and school administration experience, Vicki Hardin joined the UWG Career Services staff in 2004. In her role as Associate Director she assists Education, students with their job search skills, oversees a volunteer referral program and manages the department's website and social media.

Vicki has been actively involved in several professional organizations including Georgia Association of Colleges and Employers (GACE), Georgia Careers Consortium (GCC) and the Southeastern Association for Employment in Education. She has served as president for all three organizations and continues to serve on the GACE board and as site manager for the GCC Career Opportunities Fall Job Fair.

Vicki enjoys college football, traveling with her husband, and visiting their son in Nashville.
Education/Degrees
B.A., Elementary Education (K-8), Oglethorpe University,
General Responsibilities
Oversee employer relations and recruitment operations staff and functions. Create comprehensive recruiting policies and procedures for employers. Plan and deliver targeted career events (Career Fairs, Interview Days, Industry Days, OCR). Identify, develop and maintain relationships with both new and existing employers. Develop and promote comprehensive experiential learning opportunities (internships/co-ops) across various disciplines. Manage WolfWorks; job postings, employer contacts, calendar, events and announcements. Conduct student appointments/presentations/workshops on networking, job search strategies, WolfWorks. Advise Delta Epsilon Iota (DEI) academic honor society. Maintain department website and social media
Professional Associations
National Association of Colleges and Employers (NACE), Georgia Association of Colleges and Employers (GACE) ; American Association for Employment in Education (AAEE); Carroll County Chamber of Commerce
Length of Time at the University
Since August 2004