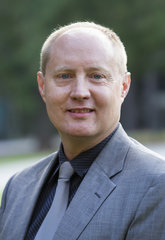 Mike Johnson, Ph.D.
Associate Professor, Program Coordinator
Phone: 678-839-6330 | Fax:
Email: ljohnson@westga.edu
Office: Pafford Social Science Building 230
Biography
Mike Johnson joined the University of West Georgia faculty in 2006. Professor Johnson�s current research interests are in juvenile delinquency, victimization, and juvenile offender treatment. He has published on the subjects of juvenile delinquency, victimization, corrections, and policing. Also, he is a Co-Investigator of ADVANCE IT CATALYST: Toward a Transformation of Culture, a project funded by a grant from the National Science Foundation. Professor Johnson�s teaching specializations are in juvenile delinquency and justice, victimology, social inequality and crime, and research methods.
Education/Degrees
A.A., Social Work, Scott Community College, 1993
B.A., Sociology and Psychology, St. Ambrose University, 1996
M.S., Sociology, Iowa State University, 1999
Ph.D., Sociology, Iowa State University, 2001
Selected Publications
Johnson, Lee M. 2014. Professional Misconduct against Juveniles in Correctional Treatment Settings. Waltham, MA: Anderson Publishing, Elsevier.
Johnson, Lee M. (Ed.). 2012. Experiencing Corrections: From Practitioner to Professor. Thousand Oaks, CA: Sage Publications.
Pino, Nathan W. & Lee M. Johnson. 2011. "Police Deviance and Community Relations in Trinidad and Tobago." Policing: An International Journal of Police Strategies and Management 34(3): 454-478.
Johnson, Lee M., Ronald L. Simons & Rand D. Conger. 2004. "Criminal Justice System Involvement and Continuity of Youth Crime: A Longitudinal Analysis." Youth & Society 36(1): 3-29.
Johnson, Lee M., Rehan Mullick & Charles L. Mulford. 2002. "General vs. Specific Victim Blaming." Journal of Social Psychology 142(2): 249-263.
Courses and Sections
Courses Taught

CRIM-2245 (Juvenile Delinquency)
CRIM-3241 (Corrections)
CRIM-3333 (Victimology)
CRIM-4232 (Family Violence)
CRIM-4255 (Youth, Crime and Community)
CRIM-4284 (Senior Capstone)
CRIM-5232 (Family Violence)
CRIM-6182 (Victimology)
CRIM-6999 (Thesis)

Fall 2015 Sections

CRIM-4255 (Youth, Crime and Community) Section: E01

Summer 2015 Sections

CRIM-2245 (Juvenile Delinquency) Section: E01
CRIM-3241 (Corrections) Section: E01

Spring 2015 Sections

CRIM-2245 (Juvenile Delinquency) Section: 01
CRIM-4284 (Senior Capstone) Section: E01

Fall 2014 Sections

CRIM-3241 (Corrections) Section: N01
CRIM-3333 (Victimology) Section: 01
CRIM-4255 (Youth, Crime and Community) Section: N01

Summer 2014 Sections

CRIM-4232 (Family Violence) Section: N01
CRIM-4284 (Senior Capstone) Section: N01
CRIM-5232 (Family Violence) Section: N01

Spring 2014 Sections

CRIM-4284 (Senior Capstone) Section: N01
CRIM-6182 (Victimology) Section: 01
CRIM-6999 (Thesis) Section: 01