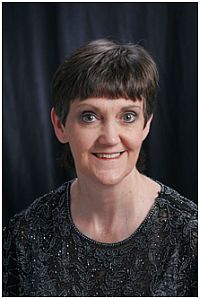 Jan Adams, BM, MM
Instructor of Keyboard Skills, Staff Accompanist
Phone: 678-839-6272 | Fax: 678-839-6259
Email: jadams@westga.edu
Office: Humanities Building 330
Biography
Jan Adams has been on the staff of the University of West Georgia since 1993. She has been staff accompanist since 1993 and is currently instructor of Keyboard Skills III and IV. Mrs. Adams received both her undergraduate and graduate degrees in Piano Performance from West Georgia, where she studied with Betty Tolbert-Smith. While in college she was a finalist in the GMTA Auditions and winner of the concerto competition, performing the Schumann A Minor Concerto with Orchestra.

As a teacher, Mrs. Adams has taught privately for more than 30 years in Carrollton. The past seven years she has taught students through West Georgia's Honors Academy. She is a member of American College of Musicians where she serves as chairman of the Carrollton chapter.

Mrs. Adams is an MTNA Nationally Certified Teacher of Music. Currently she is serving as MTNA Junior Piano Chairman for Georgia Music Teachers Association. Other previous GMTA positions include Certification Secretary, MTNA Foundation Chair, and Vice-President of Spring Auditions. She has adjudicated numerous festivals and auditions in Georgia and South Carolina.

As a performer, Mrs. Adams has served as accompanist for the Carroll County Community Chorus for the past 30 years and also for West Georgia's Concert Choir. She has accompanied numerous recitals for students and faculty.
Education/Degrees
M.M., Piano Performance, West Georgia College,
B.M., Piano Performance, West Georgia College,
Courses and Sections
Courses Taught

MUSC-1501 (Keyboard Skills I)
MUSC-1502 (Keyboard Skills II)
MUSC-2501 (Keyboard Skills III)
MUSC-2502 (Keyboard Skills IV)
MUSC-2610A (Non-Music Maj Appl: Piano)
MUSC-4610A (Secondary Applied: Piano)
MUSC-6610A (Secondary Applied: Piano)

Fall 2015 Sections

MUSC-1501 (Keyboard Skills I) Section: 01 [View Syllabus]
MUSC-1501 (Keyboard Skills I) Section: 02 [View Syllabus]
MUSC-2610A (Non-Music Maj Appl: Piano) Section: 01 [View Syllabus]
MUSC-4610A (Secondary Applied: Piano) Section: 02

Spring 2015 Sections

MUSC-1502 (Keyboard Skills II) Section: 01
MUSC-1502 (Keyboard Skills II) Section: 02
MUSC-4610A (Secondary Applied: Piano) Section: 02

Fall 2014 Sections

MUSC-1501 (Keyboard Skills I) Section: 01
MUSC-1501 (Keyboard Skills I) Section: 02
MUSC-2501 (Keyboard Skills III) Section: 02
MUSC-4610A (Secondary Applied: Piano) Section: 02
MUSC-6610A (Secondary Applied: Piano) Section: 01

Spring 2014 Sections

MUSC-1502 (Keyboard Skills II) Section: 01
MUSC-1502 (Keyboard Skills II) Section: 02
MUSC-2502 (Keyboard Skills IV) Section: 02
MUSC-4610A (Secondary Applied: Piano) Section: 02