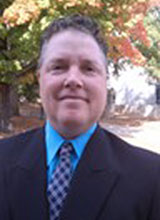 David Jenks
Professor of Criminology, Chair
Phone: 678-839-6327 | Fax:
Email: djenks@westga.edu
Office: Pafford Social Science Building 230
Biography

Office Hours: By appointment only

I received my Ph.D. from Florida State University and I am currently a Professor of Criminology at The University of West Georgia. My research interests vary, but I am currently focusing on comparative/international policing, organizational administration and leadership, and Terrorism. I have recently been awarded a fellowship with the Foundation for the Defense of Democracies. I enjoy spending time with my wife Cathi and my two children Annika (9) and Nicholas (6), playing golf, and biking.


Courses and Sections
Courses Taught

CRIM-1100 (Intro to Criminal Justice)
CRIM-2272 (Intro to Law Enforcement)
CRIM-3240 (Criminological Theory)
CRIM-4280 (Biosocial Criminology)
CRIM-4911 (Terrorism)
Selected Publications
Jenks, D., Johnson, L. M., and Matthews, T. (2012) "Examining Police Integrity: Categorizing Corruption Vignettes," International Police Executive Symposium, Geneva Centre for the Democratic Control of Armed Forces, and Coginta
Corriea, M. and Jenks, D. (2011) "Expectations of change: the Congruency between Beat Officers and Supervisors and its impact on programmatic change," Police Practice and Research: An International Journal, 12, 1: 16-34
Jenks, D. (2009). "Police Corruption or Police Productivity? Moonlighting in U.S. Agencies," Critical Issues in Justice and Politics, 2, 2: 87-104.
Jenks, D. (2004). "The Czech Police: Adopting Democratic Principles." In Caparini, M and Marenin, O. (Eds.) Transforming Police in Central and Eastern Europe: Process and Progress. Geneva Center for the Democratic Control of Armed Forces, Geneva: Tran
Ong, M., and Jenks, D. (2004). "Hispanic Perceptions of Community Policing: Is Community Policing Working?" Journal of Ethnicity in Criminal Justice, 2, 3: 53-66.
Krebs, C., Costelloe, M., and Jenks, D. (2003). "Drug Control Policy and Smuggling Innovation: A Game Theoretic Analysis." Journal of Drug Issues, Winter: 133-160.
Jenks, D. (2000) "Social Developmental Theory." The Justice Professional, 12: 507-532.