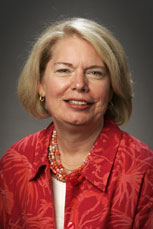 Deborah Jenkins, Ph.D.
Professor and Department Chair
Phone: 678-839-6181 | Fax: 678-839-6097
Email: djenkins@westga.edu
Office: Education Annex 138
Biography
Dr. Deborah Bainer Jenkins is Professor and Chairperson of the Department of Educational Technology and Foundations. She also coordinates the EDUC course sequence for pre-majors and directs the EDUC Abroad: Belize program which takes undergraduate students to Belize for classroom experiences. A teacher educator by training, her current research focuses on redesigning supervision and technology applications in supervision.She is co-author of the general pedagogy textbook, The Act of Teaching, and coauthored Redesigning Supervision, published by Teachers' College Press. Over her career, she has secured nearly $1.5M in grants for teacher professional development in science education, mostly focused on delivering science in partnership with non-formal organizations such as the Atlanta Audubon Society and the Georgia Aquarium. For six years, she has developed and directed the funded Taking Wing and Flying Together programs, delivered collaboratively with the Atlanta Audubon Society. These programs show teachers how to teach concepts of science through birds, their lives, and their conservation. She taught science to grades 7-12 in the U.S. and Asia, and was a faculty member at Biola University and The Ohio State University before coming to the University of West Georgia.
Education/Degrees
Biology, Teaching Certification, Geneva College, 1974
M.S., Natural Resources (Enviromental Education), Ohio State University, 1982
Ph.D., Science Education; Elementary Education, Ohio State University, 1986
Courses and Sections
Courses Taught

EDUC-2130 (Expl Learning and Teaching)

Fall 2015 Sections

EDUC-2130 (Expl Learning and Teaching) Section: E05

Summer 2015 Sections

EDUC-2130 (Expl Learning and Teaching) Section: E01
EDUC-2130 (Expl Learning and Teaching) Section: E02

Spring 2015 Sections

EDUC-2130 (Expl Learning and Teaching) Section: E03
EDUC-2130 (Expl Learning and Teaching) Section: E05
Selected Publications
Rodgers, A. & Jenkins, D. B. (2010). Redesigning Supervision. New York: Teachers' College Press. In Redesigning Supervision, coauthors Adrian Rodgers (The Ohio State University) and Deborah Bainer Jenkins examine the supervision models currently used and [View Publication]
Cruickshank, D.R, Jenkins, D.B., & Metcalf, K.K. (in press). The act of teaching (6th ed.). New York: McGraw Hill. The Act of Teaching is a practical guide to effective teaching based on research about what a competent beginning teacher should know and be [View Publication]
Online 5-Star Course
Awarded to EDUC 2130, Fall 2012
Master Birder
Recognized for course completion and Proficiency Test, Fall 2012
TESOL Certification
Awarded Spring 2013