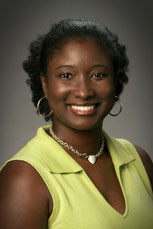 Ursula Thomas, Ed. D.
Assistant Professor
Phone: 678-839-6070 | Fax: 678-839-6063
Email: uthomas@westga.edu
Office: Education Annex 106
Biography
Ursula Thomas, Ed.D., is an assistant professor of early childhood education and birth through age five program coordinator at the University of West Georgia. Her research agenda includes issues of cultural mediation and its effects on instructional choices, the power of teacher educator research on diversity in the classroom, views of social justice in the early childhood classroom, and preservice teachers' disposition on professionalism and diversity in teacher preparation programs.
Education/Degrees
B.S., Early Childhood/Elementary Education, Alabama State University, 1994
M.Ed., Early Childhood/Elementary Education, Auburn University, 1996
Ed.D., Early Childhood Education, University of Alabama, 2003
Courses Taught
Selected Publications
Thomas, U. (2010). Disposition and Early Childhood Education Preservice Teachers: Where to Start? Current Issues in Education, 13 (2).
Thomas, U. (2010). African-American Treasures Program Visits Five Cities: Participants thinking of future generations. The Epoch Times.