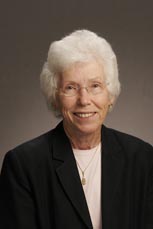 Gail Marshall, Ed. D.
Co-Director of UTeach and Lecturer
Phone: 678-839-6081 | Fax: 678-839-6063
Email: gmarshal@westga.edu
Office: Coliseum 2047
Biography
Dr. Marshall is a Lecturer and Co-Director of UTeach West Georgia in the Department of Leadership and Instruction. In addition to coordination of the UTeach program, she teaches graduate and undergraduate science methods courses and supervises field experience and internship candidates. During her ten years at UWG, Dr. Marshall has been a co-PI on numerous Higher Ed Improving Teacher Quality Grants, the IMPACT Grant to improve science among students and teachers in the west Georgia region, and several other funded efforts.. Prior to her full time appointment at UWG, Dr. Marshall worked as an adjunct at UWG and was a secondary science teacher, department chair, and system science coordinator for 29 years in public education. She has served as President and in several other capacities for the Georgia Science Teachers Association. Dr. Marshall has done science teacher training throughout the state, has written a book chapter and also several documents for the Georgia DOE, and has worked on the development of state science standards.
Education/Degrees
B.S., Biology, Florida State University, 1962
M.S.T., Zoology, University of Florida, 1964
Ed.D., Curriculum and Instruction, University of Florida, 1970
Courses and Sections
Courses Taught

EDSE-7271 (Life Sci for In-Serv Elem Teac)
EDSE-7274 (Pedagog Strat & Res Elem Sci)
EDSI-9998 (Research for Doc Dissertation)
SEED-7252 (Environmental Ed for Teachers)
SEED-7263 (Adv Instruc Strat Science Educ)
UTCH-3003 (Project Based Instruction)
Selected Publications
Marshall,Gail Ed. D., Basu-Dutt, S. (2010). "Student Centered, Active Learning Pedagogies in Chemistry Education", Making Chemistry Relevant: Strategies for Including All Students in a Learner-Sensitive Environment. New Jersey: John Wiley & Sons, Inc
Marshall, Gail ED.D.(Spring 2004) "Getting To Know Your Watershed," The Georgia Science Teacher.