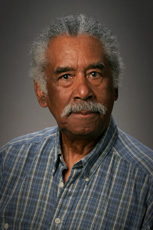 Harry N. Morgan, Ed. D.
Professor
Phone: 678-839-6072 | Fax: 678-839-6063
Email: hmorgan@westga.edu
Office: Education Annex 110
Biography
Harry Morgan has served as department chair of Early Childhood Education at the University of West Georgia. He now teaches child development, Early Childhood Curriculum, and learning theory. Professor Morgan has taught in New York City public schools, and taught graduate studies at Bank Street College. He has also been a professor at Syracuse University and Ohio University.
Education/Degrees
B.S., Education, New York University,
M.S., Social Work, University of Wisconsin,
Ed.D., Education, University of Massachusetts,
Courses Taught
Summer 2013

ECED-8297 (Professional Seminar) Section: 01

Spring 2013

ECED-6249 (Seminar For P-5 Teachers) Section: 01
ECED-6261 (Developing Affective Curricula) Section: 01
ECED-8272 (Teacher as Leader) Section: 01
Selected Publications
Morgan, Harry Ed.D. (2007) Early Childhood Education: History, theory and practice. Roman & Littlefield: Lanham, Maryland.