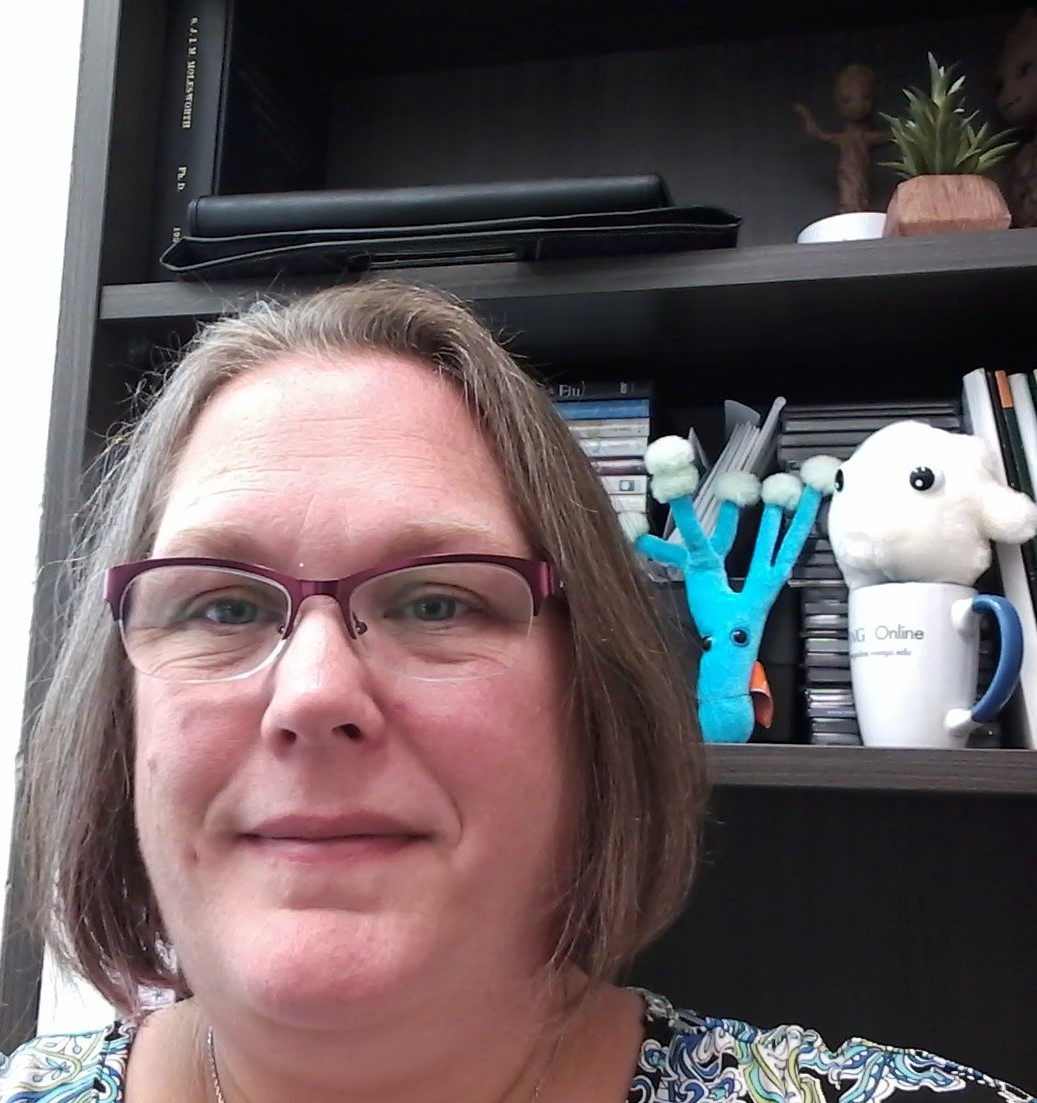 Sara Molesworth-Kenyon, Ph.D.
Assistant Professor
Phone: 678-839-4028 | Fax: 678-839-6548
Email: smoleswo@westga.edu
Office: Biology Building 206
Hours: 8.30-9.30 am and 1-2 pm M-F
Biography
I have focused my interests on the neutrophil. Specifically, the involvement of neutrophils in the production of T cell recruiting chemokines during HSV-1 infection of human corneas. I have designed a novel ex vivo model for HSV-1 corneal infection in which chemokine secretion by the corneal cells and neutrophils may be studied. My research plans have been approved by the Georgia Eye Bank, Inc. which supplies corneal research tissue. I have presented the ex vivo model design to the American Society for Microbiology and published the initial findings from the model in the International Journal of Inflammation (Special issue; Ocular Inflammation and Infection, 2012).
During my postdoctoral years I worked under the mentorship of two of the leading researchers in the field of HSV-1 corneal infection, Dr. Robert Lausch and Dr. Jon Oakes, and Dr. Lindsey Hutt-Fletcher, an outstanding researcher in the field of herpes-virology. During this time I gained insight into the current understanding of the disease process for herpes stromal keratitis and became proficient in the intricate techniques involved in the murine model of infection. I intend to build upon these experiences to model the inflammatory response arising from corneal infection with HSV-1, under ex vivo conditions, with a focus on the role of the neutrophil.
Having been active in mentoring both medical and PhD candidate students at the medical school within the University of South Alabama, I am now committed to training undergraduate and masters students as a member of the faculty at UWG. I have been awarded multiple intramural grants by the College of Science and Mathematics at UWG, to support undergraduate and graduate research on chemokine production by neutrophils during HSV-1 infection of human corneas. Work from these students has been successfully presented at regional meetings and published in peer reviewed journals. Working with undergraduate students within one of only two biohazard level II laboratories here at UWG requires a high level of mentor commitment to physically train and oversee the students during their research. It provides me with great satisfaction when my students successfully graduate to medical college or research positions having completed a clinically orientated research experience.
Education/Degrees
B.Sc., Microbiology, University of Surrey, UK, 1993
Ph.D., Virology, University of Bristol, UK, 1997
Courses and Sections
Courses Taught

BIOL-1013 (Biol of AIDS & Infect Disease)
BIOL-3310 (Microbiology)
BIOL-4727 (Essentials of Immunology)
BIOL-4729 (Medical Virology)
BIOL-4984 (Senior Biology Seminar)
BIOL-4986 (The Stewart House Internship)
BIOL-5727 (Essentials of Immunology)
BIOL-5729 (Medical Virology)
BIOL-6984 (Graduate Biology Seminar)

Summer 2016 Sections

BIOL-1013 (Biol of AIDS & Infect Disease) Section: E01
BIOL-4986 (Physical Therapy 3) Section: 01
BIOL-4986 (Physical Therapy 3) Section: 02

Spring 2016 Sections

BIOL-3310 (Microbiology) Section: 01
BIOL-3310 (Microbiology) Section: 02
BIOL-4984 (Senior Biology Seminar) Section: 01
BIOL-4986 (Physical Therapy 2) Section: 02
BIOL-6984 (Graduate Biology Seminar) Section: 01

Fall 2015 Sections

BIOL-4727 (Essentials of Immunology) Section: 01
BIOL-4729 (Medical Virology) Section: 01
BIOL-5727 (Essentials of Immunology) Section: 01
BIOL-5729 (Medical Virology) Section: 01

Summer 2015 Sections

BIOL-1013 (Biol of AIDS & Infect Disease) Section: N01
BIOL-4986 (Physical Therapy) Section: 02
BIOL-4986 (Internship/ Dr. Larry Price) Section: 04

Spring 2015 Sections

BIOL-3310 (Microbiology) Section: 01
BIOL-3310 (Microbiology) Section: 02
BIOL-4984 (Senior Biology Seminar) Section: 01
BIOL-4986 (The Stewart House Internship) Section: 01
Selected Publications