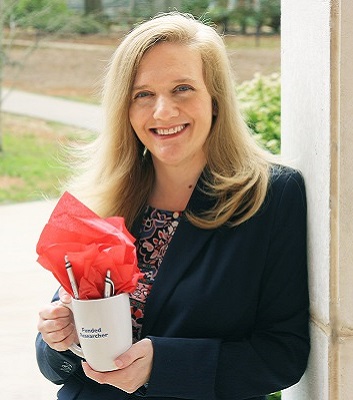 Shea Rose, Ph.D.
Associate Professor
Phone: 678-839-4067 | Fax: 678-839-4071
Email: srose@westga.edu
Office: Callaway Science Building
Biography
Dr. Rose is an associate professor of geosciences at the University of West Georgia. Her research in the fields of urban climatology, GIS (Geographic Information Science), energy and sustainability has been supported by the Department of Energy, the United States Geological Survey and the California Energy Commission. During the summer of 2015 she was selected for the "School of Ice" supported by the NSF, Lockheed Martin, and the American Meteorological Society. To learn more about the "School of Ice," visit the Antarctic Sun site at http://antarcticsun.usap.gov/science/contenthandler.cfm?id=4169. Locally, she has worked with the UWG Community Garden, the Tanner Health System Get Healthy, Live Well initiative and the Green Elite student organization to promote healthy food on our campus. Prior to joining the faculty at UWG, Dr. Rose was a researcher in the Heat Island Group at Lawrence Berkeley National Laboratory.
Education/Degrees
B.A., Energy and Environmental Studies, The Evergreen State College, 1996
Ph.D., Geography (Urban Climatology), Florida State University, 2008
Courses and Sections
Courses Taught

ENVS-2202 (Environmental Science)
GEOG-1112 (Weather and Climate)
GEOG-1113 (Landform Geography)
GEOG-2202 (Environmental Science)
GEOG-2202L (Environmental Science Lab)
GEOG-4082 (Climatology)
GEOG-4086 (Evironmental Safety Intership)
GEOG-4400 (Energy and Sustainability)
GEOG-4554 (Computer Cartography)
GEOG-5554 (Computer Cartography)
GEOL-5985 (Energy and Sustainability)

Summer 2016 Sections

GEOG-1112 (Weather and Climate) Section: 01

Spring 2016 Sections

GEOG-1112 (Weather and Climate) Section: 01
ENVS-2202 (Environmental Science) Section: 80G
GEOG-4086 (Environmental Internship) Section: 04
GEOG-4400 (Energy and Sustainability) Section: 01
GEOG-5554 (Computer Cartography) Section: E01
GEOL-5985 (Energy and Sustainability) Section: 01

Fall 2015 Sections

GEOG-1113 (Landform Geography) Section: E01
GEOG-2202 (Environmental Science) Section: 01
ENVS-2202 (Environmental Science) Section: 04G
GEOG-2202L (Environmental Science Lab) Section: 01
GEOG-4086 (Cobb County GIS (Internship)) Section: 01
GEOG-4554 (Computer Cartography) Section: 01

Summer 2015 Sections

GEOG-1112 (Weather and Climate) Section: 01
GEOG-4082 (Climatology) Section: E01

Spring 2015 Sections

GEOG-1112 (Weather and Climate) Section: 01
GEOG-4082 (Climatology) Section: 01D
GEOG-4086 (County/City GIS Dept) Section: 01
GEOG-4086 (Evironmental Safety Intership) Section: 02
GEOG-5554 (Computer Cartography) Section: E01
Selected Publications
Rose, L.S. and Levinson, R. 2013. Analysis of the Effect of Vegetation on Albedo in Residential Areas: Case Studies in Suburban Sacramento and Los Angeles, CA. GIScience & Remote Sensing, Volume 50, Issue 1, Pages 64-77.
Rose, L.S., Seong, J.C., Ogle, J., Butte, E., Indridason, J., Hall, J., Nelson, S., Jones, T., and Humphry, J. 2013. Challenges and Lessons from a Wetland LiDAR Project: A Case Study of the Okefenokee Swamp, Georgia, USA. Geocarto International, Volume 28,
Rose, S., Stallins, J.A. and Bentley, M. 2008. Climatological and Single-Event Scale Visualizations of Urban Cloud-to-Ground Flashes in Atlanta, Georgia. Earth Interactions, Volume 12, Pages 1-30.
Akbari, H., Rose, L. S. and Taha, H. 2003. Analyzing the land cover of an urban environment using high-resolution orthophotos. Landscape and Urban Planning, Volume 63, Issue 1, Pages 1-14.
Rose, L. S., Akbari, H., and Taha, H. 2003. Characterizing the Fabric of the Urban Environment: A Case Study of Greater Houston, Texas. LBNL-51448. Berkeley, CA. [View Publication]