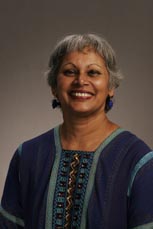 Hema Ramanathan, Ph.D.
Associate Professor of ESOL
Phone: 678-839-6058 | Fax: 678-839-6099
Email: hramanat@westga.edu
Office: Education Annex 222
Biography
Dr. Hema Ramanathan is an Associate Professor in the Department of Clinical and Professional Studies in the College of Education. Her academic focus is teacher education with an emphasis on diversity and instruction. She teaches courses on diversity and instructional leadership in the EDDSI program, and Masters level courses on culture, lnstructional strategies and linguistics as applied to language minority students, besides directing dissertations. Her research interests span diversity, teacher beliefs and professional development of teachers in the U.S. and India. Publications include editing a section on India for a handbook on Asian education, a chapter on mapping how to teach culturally and diverse learners, and an article on the status of assessment of English in K-12 schools in India. Prior to her appointment at UWG, Dr. Ramanathan taught at Butler University, IN, and in K-12 and English Language schools in India, Indonesia and Malaysia.
Education/Degrees
B.A., English Literature, Madras University, 1972
B.Ed., English as a Second/Foreign Language, Madras University, 1979
M.A., English Literature, Madurai-Kamaraj University, 1982
M.Ed., Educational Administration, Madurai-Kamaraj University, 1985
Post Graduate Certificate in the Teaching of English, Central Institute of English and Foreign Languages, 1988
Ph.D., Teacher Education, The Ohio State University, 1996
Courses and Sections
Courses Taught

ECED-4286 (Teaching Internship)
EDSI-9923 (Lead for Diversity in 21st Cen)
EDSI-9998 (Research for Doc Dissertation)
EDUC-2120 (Exp Sociocult. Persp on Div Ed)
NURS-9013 (Nurs Ed Lead for Div 21st Cent)
SEED-4243L (Inst Strat for Sec Soc St Lab)
SEED-4271L (Inst., Assess, Mgmt in SE Lab)
SEED-4286 (Teaching Internship)
SPED-4786 (Internship in Special Educ)
Selected Publications
Dissertations Chaired
Coleman, D. A study of the common characteristics in planning and implementation of mathematics lessons of effective teachers of students in poverty. (2012)
McCaffrey, K. The effect of a character education program on the perceptions of young adolescents regarding their school's climate and their ability to discern loyalty and perseverance. (2011)
Willaford, S. The influence of SIOP training on changes in teacher planning and instructional delivery of elementary mathematics. (2011).
Harrison, J. Mainstream teachers' implicit beliefs about English Language Learners. (2010).
Corley, J. A. Emic and etic perspectives of male elementary school teachers: Understanding the motivations, experiences, and challenges of men working in a female-dominated context. (2009).
Horn, C. Stakeholder perceptions of the roles and responsibilities of middle school curriculum specialists. (2009).
Lusk, C. An investigation of the relationship between the Student Support Team process and student achievement. (2009).
Sankar, L. An experimental study comparing the effectiveness of two formats of professional learning on teacher knowledge and confidence in a co-teaching class. (2009).