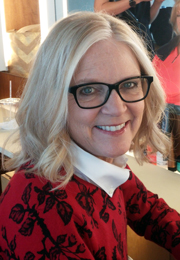 Dianne Hoff, Ed. D.
Dean
Phone: 678-839-6570 | Fax: 678-839-6098
Email: dhoff@westga.edu
Office: Education Center 101
Hours: 8:00 - 5:00pm
Biography
Dr. Dianne L. Hoff is the Dean of the College of Education and Professor of Educational Leadership. She teaches graduate courses in education law and policy. Her research focuses on the social/political context of schooling, especially how law, policy, cultural norms, and practices can intersect to perpetuate discrimination and marginalization. She is also nationally recognized for her research on contemporary issues that present legal and moral dilemmas for schools. Most recently, for example, she has published articles on pay-to-play, cyber-bullying, and appropriate accommodations for students with peanut allergies. Prior to her appointment at UWG, Dr. Hoff was a high school teacher in Indiana, a principal in large schools in Georgia and California, and then a professor of Educational Leadership at the University of Maine.
Education/Degrees
B.S., Secondary Education: English, Indiana University, 1974
M.S., Secondary Education: English, Indiana University, 1978
Educational Administration (Urban Administration and School Law), University of Louisville, 1998
Courses and Sections
Courses Taught

EDSI-9925 (Policy Analysis for Sch Impr)
EDSI-9998 (Research for Doc Dissertation)

Fall 2015 Sections

EDSI-9925 (Policy Analysis for Sch Impr) Section: E01
EDSI-9998 (Research for Doc Dissertation) Section: E14

Summer 2015 Sections

EDSI-9998 (Research for Doc Dissertation) Section: E14

Spring 2015 Sections

EDSI-9998 (Research for Doc Dissertation) Section: E04

Fall 2014 Sections

EDSI-9925 (Policy Analysis for Sch Impr) Section: N01
EDSI-9998 (Research for Doc Dissertation) Section: N04

Summer 2014 Sections

EDSI-9998 (Research for Doc Dissertation) Section: N04

Spring 2014 Sections

EDSI-9998 (Research for Doc Dissertation) Section: N04
Selected Publications