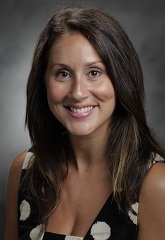 Emily Teitelbaum
Assistant Director for Student Events and Programs
Phone: 678-839-6526 | Fax: 678-839-6481
Email: eteitelb@westga.edu
Office: Campus Center 123
Courses and Sections
Courses Taught

UWG-1101 (First Year Univ. Experience)

Fall 2015 Sections

UWG-1101 (First Year Univ. Experience) Section: 16
Education
M.S. Higher Education Administration: College Student Personnel (Southern Illinois University)
B.A. Psychology (Denison University)
General Responsibilities
Weekends West Georiga
Stay West Weekends
Major Concerts
Advisor of the Student Activities Council (SAC) which includes eight program committees. These committees are: Homecoming, Diversity, Special Events, Public Relations, Live Music, Comedy, University Traditions, Issues and Ideas, and Sports and Entertainment. The President, Vice President of Recruitment, and Finance create the Executive Board.

SAC participates in Welcome Week activities as well as planning numerous events on campus, such as Homecoming and Spring Fling.
Professional Associations
American College Personnel Association (ACPA)
National Association for Campus Activities (NACA)
National Association of Student Personnel Administrators (NASPA)
Length of Time at the University
Since July 2009