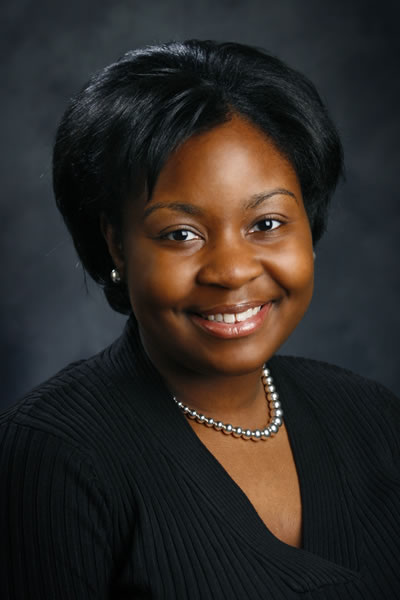 LaDonia Patterson, MSN, RN, FNP-BC,
Clinical Assistant Professor
Phone: 678-839-6379 | Fax: 678-839-2462
Email: lpatters@westga.edu
Office: Tanner Health System School of Nursing Building 323
Biography
I am truly passionate about nursing. I believe it to be a dynamic profession that requires equally dynamic leaders to nurture and cultivate it through the education of self and others. I have served the profession for several years; first, as a registered professional nurse; then as an Advanced Practiced Registered Nurse; and now as a nurse educator.I believe that students are intelligent and diverse individuals who have equally diverse learning needs. I also believe that it is the responsibility of the nurse educator to recognize those learning needs and to continuously seek out ways to be flexible with creative strategies that facilitate student learning. The nurse educator must also encourage each student to explore his or her own unique approach to learning. Once these have both occurred, true learning can take place. In the clinical setting I strive to create an environment where teaching, learning, and caring flow freely from one individual to the next so that students feel safe, valued, and respected. I believe this approach best fosters innovative thinking, teaching, and learning.My philosophy of nursing education is simple: know the hearts of your students and use this knowledge to guide them through their learning experiences.
Courses and Sections
Courses Taught

NURS-2101 (Pathophysiology & Pharm I)
NURS-2102 (Pathophysiology & Pharm II)
NURS-4202 (Health Care of the Client IV)
NURS-4301 (Clinical Practice III)
NURS-4302 (Clinical Practice IV)
XIDS-2002 (WDYKA: Nursing)

Summer 2016 Sections

NURS-2101 (Pathophysiology & Pharm I) Section: 91
NURS-2101 (Pathophysiology & Pharm I) Section: 92

Spring 2016 Sections

XIDS-2002 (WDYRKA: Nursing) Section: LCC
NURS-4301 (Clinical Practice III) Section: 91

Fall 2015 Sections

NURS-2102 (Pathophysiology & Pharm II) Section: 91
NURS-2102 (Pathophysiology & Pharm II) Section: 92

Summer 2015 Sections

NURS-2101 (Pathophysiology & Pharm I) Section: 91
NURS-2101 (Pathophysiology & Pharm I) Section: 92

Spring 2015 Sections

XIDS-2002 (WDYKA: Nursing) Section: LCC
NURS-4202 (Health Care of the Client IV) Section: 01
NURS-4302 (Clinical Practice IV) Section: 01
Education/Degrees
M.S., Master of Science in Nursing, Specialty: Family Nurse Practitioner, University of California, Los Angeles, Los Angeles, CA,
B.S., Bachelor of Science in Nursing, Hampton University, Hampton, VA,
Areas of Expertise or Professional Interests
Cardiac/Telemetry Nursing
Adult Health
Management and preventiono f episodic and chornic illness
Professional Memberships and Certifications
National board certification as a Family Nurse Practitioner through the American Nruses Credentialing Center (ANCC), 2006
Sigma Theta Tau International Nursing Honor Society
Golden Key National Honor Society
Personal Interests
Spending time with friends and family, Laughing, Traveling, Gucci Bags
The most unique thing about our programs is
Faculty members truly devoted to nursing education and the amazingly supportive staff :)