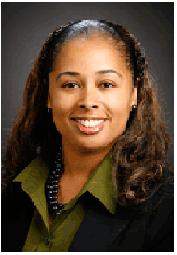 Courtney Flowers, Ph.D.
Assistant Professor
Phone: 678-839-6188 | Fax: 678-839-6195
Email: cflowers@westga.edu
Office: Coliseum 2041
Biography
Dr. Courtney Flowers began her career at the University of West Georgia in August 2009. She is an Assistant Professor of Sport Management in the Department of Leadership and Applied Instruction. Prior to assuming her position at UWG, she taught at Grambling State University in the Department of Kinesiology, Sport and Leisure Studies and at Gesu Elementary School located in Detroit, Michigan.

Dr. Flowers brings to UWG an array of sports experience including golf administration, junior golf rules and development clinics, college athletic conference and NCAA Division I athletic academic advising. She also competed four years on the Mississippi Valley State Women's Golf team and coordinated the NCAA CHAMPS Life Skills program, Student-Athlete Advisory Committee and Athletic Tutor and Mentor programs at the University of New Mexico for four years.

In addition to her teaching and research, she is a member of Alpha Kappa Alpha Sorority Inc., American Alliance for Health, Physical Education, Recreation, & Dance, National Academic Advising Association, National Association of Collegiate Women Athletics Administrators and the National Association for Sport and Physical Education.
Education/Degrees
B.S., Biology minor in Chemistry, Mississippi Valley State University, 1999
M.S., Sports Administration, Grambling State University, 2001
Ph.D., Physical Education, Sports, and Exercise Science and minor in Counseling, University of New Mexico, 2009
Courses Taught
Selected Publications
Snell, C. & Kluka, D. (2002). Sport Ethnography. International Council of Sport Science and Physical Education. Champaign, IL: Human Kinetics.
Kluka, D.A., Snell, C. & Smith, C. (2000).Taboo: Why Black Athletes Dominate Sport and Why Were Afraid to Talk about It. International Council of Sport Science and Physical Education. Champaign, IL: Human Kinetics.