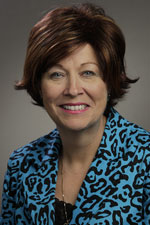 Holly Dever, MSN, RN
Lecturer
Phone: 678-839-5643 | Fax: 678-839-2462
Email: hdever@westga.edu
Office: School of Nursing Building 308
Biography
My vision as a professional nurse and as a nurse educator is rooted in the Human Becoming Theory, developed by Rosemarie R. Parse, whose first assumption is "meaning" (Pilkington & Jonas-Simpson, 1996). Meaning refers to how individuals perceive and proclaim their values and beliefs about the human-universe process (Pilkington & Jonas-Simpson). This viewpoint allows the nurse to accept an individual where they are in life without prejudgments. Utilizing this personal concept of caring, each individual I encounter is perceived as someone's mother, father, sister, brother, son, or daughter. This personal concept values each human interaction as sacred. This is a significant concept for me that will be modeled in my teaching and professional practice. This interaction is the potential for what Bevis and Watson (2000) describe as a "teaching moment." It is in that moment where our opportunity exists to make a difference.


In conclusion, who I am as a nurse and as a nurse educator is an unfinished canvas with a collage of my past and present experiences. New inspirations gained from each patient encounter or new group of nursing students will add color and depth to this canvas along with my hopes and aspirations for the future. I will look to my mentors to grow and mentor those who I will be leading into the future of nursing.
Education/Degrees
M.S., Master of Science in Nursing, University of West Georgia,
B.S., Bachelor of Science in Nursing, University of West Georgia,
A.S., Associate of Science in Nursing, Great Lakes Junior College,
Courses and Sections
Courses Taught

NURS-3301 (Clinical Practice I)
NURS-3302 (Clinical Practice II)
NURS-4300 (Clinical Specialty Practice)
Areas of Expertise or Professional Interests
Hospice
Palliative Care
Professional Memberships and Certifications
Sigma Theta Tau International Honor Society of Nursing Pi Nu Chapter
Personal Interests
Gardening, Raising Chickens, Fishing
The most unique thing about our programs is
"Caring", the act and outcome of caring is visible in all aspects of this program.