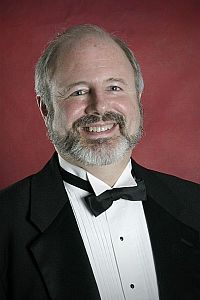 Kevin R. Hibbard, D.M.A
Department Chair, Professor of Music, Director of Choirs, Voice
Phone: 678-839-6516 | Fax: 678-839-6259
Email: khibbard@westga.edu
Office: Humanities Building 105
Biography
Kevin Hibbard is Professor of Music and Chair, and Director of Choirs at the University of West Georgia. Previously, he was Instructor of Choral Music Education at Illinois University.

Originally from Pennsylvania, Dr. Hibbard received the Bachelor of Arts in Music degree from Luther College in Decorah, Iowa, and the Master of Music and the Doctor of Musical Arts degrees in Choral Music from Arizona State University. He has done additional graduate work at Westminster Choir College and the Blossom Festival School of Kent University. Conductors with whom he has worked extensively include Robert Shaw, Weston Noble, Douglas McEwen, Howard Swan, Robert Page, Paul Christiansen, and Vance George. He has sung with the Atlanta Symphony Orchestra Chorus and Chamber Chorus, and with the Robert Shaw Chamber Singers.

Dr. Hibbard's experience includes public school teaching, church choirs, community choirs, and boy choirs. He has served as guest conductor for choral festivals in six states, and frequently serves as adjudicator and clinician for vocal events. His choirs have appeared at conventions of the Georgia Music Educators Association and American Choral Directors Association, the Illinois Music Educators Association, and the Wisconsin Choral Directors Association.

In addition to his work at the University of West Georgia, Hibbard is Choir Director at Grace Lutheran Church in Carrollton, and Music Director of Collegium Vocale, a select community chorus which presents concerts of classical choral literature on the campus of Emory University.

Dr. Hibbard is past-president of the Georgia chapter of the American Choral Directors Association, and previously served ACDA as Central Division Repertoire and Standards Chair for Boy Choirs, and as Georgia Chair for Youth & Student Concerns. He was recognized as a "Friend of the Arts" by Sigma Alpha Iota music fraternity for women, and was recently listed in "Who's Who Among America's Teachers." Hibbard is a member of M. E. N. C., the N. A. S. M.
Courses and Sections
Courses Taught

MUSC-1000 (Comprehensive Music Laboratory)
MUSC-2600C (Principal Applied: Voice)
MUSC-2600G (Principal Applied: Oboe)
MUSC-2600N (Principal Applied: Trombone)
MUSC-2750 (Concert Choir)
MUSC-2760 (Chamber Singers)
MUSC-3601 (Woodwind Tech and Materials)
MUSC-4750 (Concert Choir)
MUSC-4760 (Chamber Singers)
MUSC-4941 (Half Recital)
MUSC-4942 (Full Recital)
MUSC-5750 (Concert Choir)
MUSC-5760 (Chamber Singers)
MUSC-6600N (Principal Applied: Trombone)

Fall 2015 Sections

MUSC-1000 (Comprehensive Music Laboratory) Section: LXV
MUSC-1000 (Comprehensive Music Laboratory) Section: L2V
MUSC-2750 (Concert Choir) Section: 01
MUSC-2760 (Chamber Singers) Section: 01
MUSC-4750 (Concert Choir) Section: 01
MUSC-4760 (Chamber Singers) Section: 01
MUSC-4941 (Half Recital) Section: 01
MUSC-4942 (Full Recital) Section: 01
MUSC-5750 (Concert Choir) Section: 01
MUSC-5760 (Chamber Singers) Section: 01

Spring 2015 Sections

MUSC-1000 (Comprehensive Music Laboratory) Section: L2V
MUSC-1000 (Comprehensive Music Laboratory) Section: LXV
MUSC-2750 (Concert Choir) Section: 01
MUSC-2760 (Chamber Singers) Section: 01
MUSC-4750 (Concert Choir) Section: 01
MUSC-4760 (Chamber Singers) Section: 01
MUSC-4941 (Half Recital) Section: 01
MUSC-4942 (Full Recital) Section: 01
MUSC-5750 (Concert Choir) Section: 01
MUSC-5760 (Chamber Singers) Section: 01

Fall 2014 Sections

MUSC-1000 (Comprehensive Music Laboratory) Section: L2V
MUSC-1000 (Comprehensive Music Laboratory) Section: LXV
MUSC-2600G (Principal Applied: Oboe) Section: 01
MUSC-2600N (Principal Applied: Trombone) Section: 01
MUSC-2750 (Concert Choir) Section: 01
MUSC-2760 (Chamber Singers) Section: 01
MUSC-3601 (Woodwind Tech and Materials) Section: 01
MUSC-4750 (Concert Choir) Section: 01
MUSC-4760 (Chamber Singers) Section: 01
MUSC-4941 (Half Recital) Section: 01
MUSC-4942 (Full Recital) Section: 01
MUSC-5760 (Chamber Singers) Section: 01
MUSC-6600N (Principal Applied: Trombone) Section: 01

Summer 2014 Sections

MUSC-2600C (Principal Applied: Voice) Section: 01

Spring 2014 Sections

MUSC-1000 (Comprehensive Music Laboratory) Section: LCU
MUSC-1000 (Comprehensive Music Laboratory) Section: 01
MUSC-2750 (Concert Choir) Section: 01
MUSC-2760 (Chamber Singers) Section: 01
MUSC-4750 (Concert Choir) Section: 01
MUSC-4760 (Chamber Singers) Section: 01
MUSC-4941 (Half Recital) Section: 01
MUSC-4942 (Full Recital) Section: 01
MUSC-5750 (Concert Choir) Section: 01
MUSC-5760 (Chamber Singers) Section: 01